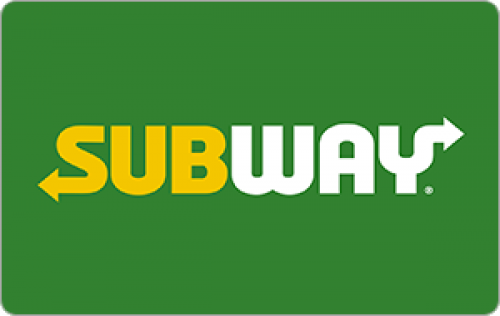 Product Description, Terms and Conditions is provided by product owner.
Description
E-cards are not sent automatically upon redemption. Orders will be fulfilled within 2-7 days of redemption. Once the order is fulfilled, you will receive a confirmation email and then the reward within 30 minutes. Please check your junk mail or contact support@tellwut.com if you did not receive your order. Cards are non refundable once the order is processed. E-cards are sent directly from our supplier Your Digital Reward.

With a focus on fresh ingredients, affordable prices and an extensive menu of made-to-order sandwiches, salads & wraps; Subway® Restaurants have become the leading choice for people seeking quick, better for you meals that the whole family can enjoy. Having a Subway® Card means always having a delicious meal right in your pocket.
With more than 26,000 convenient locations across the U.S. and Canada, there are more Subway® Shops than any other quick serve restaurant brand in North America. 
---
Product Terms & Conditions
The Subway® Card is issued by Value Pay Services LLC. The Subway® Card can be loaded with a dollar value and used to purchase goods and services at participating Subway® restaurants in the U.S. and Canada, and online at www.subway.com or through the Subway® App.  The Card may not be used to purchase other Cards and is not redeemable for cash except where required by law.  The prepaid card balance never expires, nor are any fees charged in connection with its use.  Check your balance at www.subway.com or call 1-877-697-8222. The remaining balance on lost, stolen, or damaged Cards will be replaced only if the Card has been registered and proof of purchase is provided. To register your Card, and for complete terms and conditions, visit www.subway.com. Use of this Card constitutes acceptance of those terms and conditions. The Subway® Card can also be used in conjunction with the Subway MyWay® Rewards Program, which is administered separately. 
App ordering available at participating restaurants. Allow 15 minutes for pickup.
Subway® is a Registered Trademark of Subway IP LLC. ©2021 Subway IP LLC (artwork) / Value Pay Services LLC (text)
For ordering and support of Subway Cards with braille, call 1-877-697-8222.