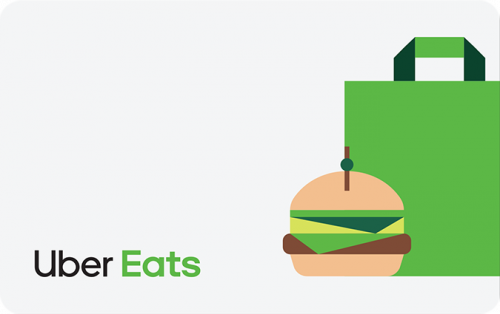 Product Description, Terms and Conditions is provided by product owner.
Description
E-cards are not sent automatically upon redemption. Orders will be fulfilled within 2-7 days of redemption. Once the order is fulfilled, you will receive a confirmation email and then the reward within 30 minutes. Please check your junk mail or contact support@tellwut.com if you did not receive your order. Cards are non refundable once the order is processed. E-cards are sent directly from our supplier Your Digital Reward.
Gift Uber Eats to the people you care about, or add value to your Uber Eats account.
The Uber Eats app is the easy and reliable way to get the food you want, delivered fast and fresh. Tap the app and pick from hundreds of full menus from local restaurants and have your order delivered to you at Uber speed. Plus, payment is automatic—no cash, no card, no hassle.
- Order from hundreds of local restaurants
- Choose from full menus
- Track delivery
- Cashless payment
-----
Offrez Uber Eats à vos proches ou profitez d'une valeur ajoutée sur votre compte Uber Eats.
L'app Uber Eats est la façon simple et fiable de vous faire livrer en peu de temps les repas fraîchement préparés qui vous font envie. Touchez l'app et choisissez parmi des centaines de menus complets de restaurants locaux pour recevoir votre commande à la vitesse Uber. De plus, le paiement est automatisé : pas d'argent, pas de carte, pas de souci.
- Commandez auprès de centaines de restaurants locaux
- Faites votre choix parmi des menus complets
- Suivez la livraison
- Effectuez votre paiement sans échange d'argent
---
Product Terms & Conditions
By using this gift card, you accept the following terms and conditions: This card is redeemable via the Uber® and Uber Eats app within Canada. The card is non-reloadable and, except where required by law, cannot be redeemed for cash, refunded, or returned. You may be required to add a secondary payment method to use this gift card with the Uber or Uber Eats app. The card is not redeemable outside Canada. Issuer is not responsible for lost or stolen cards, or unauthorized use. This card is issued by Uber B.V. For balance, full terms and conditions and customer service, visit uber.com/legal/gift-cards/en-ca.
En utilisant cette carte-cadeau, vous acceptez les conditions d'utilisation suivantes : cette carte est utilisable via l'application Uber® ou Uber Eats au Canada. La carte ne peut pas être rechargée et, sauf exception exigée par la loi, ne peut pas être échangée contre de l'argent liquide, remboursée, ou retournée. Il peut vous être demandé d'ajouter un second moyen de paiement pour utiliser cette carte avec l'application Uber ou Uber Eats. La carte ne peut pas être utilisée en dehors du Canada. La société émettrice décline toute responsabilité pour la perte ou le vol d'une carte, ou les usages non autorisés. La carte est émise par Uber B.V. Pour visualiser toutes les conditions générales d'utilisation, contacter le service à la clientèle et obtenir le solde, rendez-vous sur uber.com/legal/gift-cards/fr-ca.