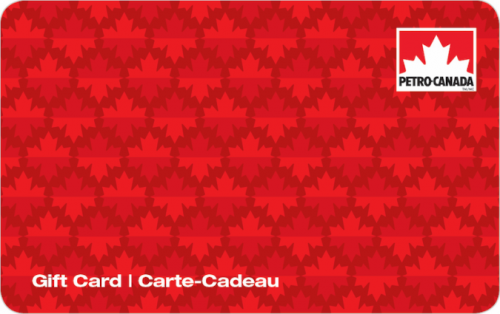 Product Description, Terms and Conditions is provided by product owner.
Description
E-cards are not sent automatically upon redemption. Orders will be fulfilled within 2-7 days of redemption. Once the order is fulfilled, you will receive a confirmation email and then the reward within 30 minutes. Please check your junk mail or contact support@tellwut.com if you did not receive your order. Cards are non refundable once the order is processed. E-cards are sent directly from our supplier Your Digital Reward.
One card does it all. Purchase fuel, snacks, car washes and so much more at over 1,500 participating Petro-Canada retail locations! Petro-Canada eGift Cards cannot be used to purchase prepaid cards or gift cards. This eGift Card can be used in conjunction with any other form of payment accepted at Petro-Canada including cash, credit or debit cards, so you enjoy the full value of the card.
---
Product Terms & Conditions
Present this as payment at any participating Petro-Canada™ retail store. Petro-Points™ awarded upon usage, not at time of eGift-Card purchase. Petro-Canada eGift Cards cannot be used to purchase prepaid cards, gift cards, or car wash card products. Please protect your eGift-Card as you would cash. Lost, stolen or eGift-Cards used without your authorization cannot be replaced or replenished. eGift-Card is not redeemable for cash except where legislation requires otherwise. Use of this eGift-Card constitutes acceptance of the terms and conditions. Petro-Canada DIGITAL gift card and preferred price card e-certificates are not valid for use at Petro-Canada's gas retail partner North Atlantic Petroleum (NAP) in Newfoundland, we apologize for this inconvenience. PLASTIC Petro-Canada gift and preferred price cards continue to be accepted at NAP sites. eGift-Card issued by Suncor Energy Inc. For Customer Service and balance inquiries, please call 1-800-668-0220.