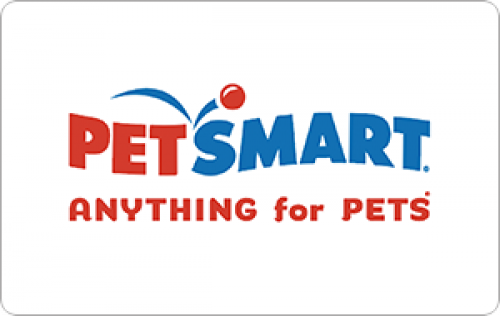 Product Description, Terms and Conditions is provided by product owner.
Description
E-cards are not sent automatically upon redemption. Orders will be fulfilled within 1-7 business days of redemption. Once the order is fulfilled, you will receive a confirmation email and then the reward within 30 minutes. Please check your junk mail or contact support@tellwut.com if you did not receive your order. Cards are non refundable once the order is processed. E-cards are sent directly from our supplier Your Digital Reward.

PetSmart Gift Cards are the perfect gift for any occasion!
As the largest specialty pet retailer of services and solutions for the lifetime needs of pets, we love pets and believe pets make us better people. We operate over 1,650 stores and over 200 in-store PetsHotel dog and cat boarding facilities in the United States, Canada, and Puerto Rico.
We provide a broad range of competitively priced pet products and in-store services including pet adoption, boarding, grooming, and training. Our stores are stocked with more than 10,000 products and we are also a leading online provider of pet supplies and pet care information.
With PetSmart Gift Cards, the recipient chooses exactly what they wish to purchase. No expiration dates or fees! Reload at any time by visiting your local PetSmart store.
Redeemable online and in store for merchandise, Dog Training, Grooming Salon, PetsHotel and Doggie Day Camp. 
---
Product Terms & Conditions
This Gift Card is redeemable for Grooming, PetsHotel, Doggie Day Camp and Training services and merchandise at PetSmart retail locations in the U.S., Canada and online. Card may not be redeemed for certain goods and services as described at the store. Gift Card is non-refundable, does not expire and has no fees. It is not redeemable for cash except where required by law. Visit a PetSmart location to add value to your Gift Card. PetSmart and its affiliates are not responsible for, and will not replace, lost, stolen or damaged cards. PetSmart may issue new cards for the unredeemed balance of a lost, stolen, or damaged card upon receipt of adequate proof of purchase and card number. For balance inquiries, see any PetSmart sales associate or call 1-800-364-8604. For the PetSmart location nearest you, please visit petsmart.com in the U.S. and petsmart.ca in Canada or call 1-877-473-8762. For questions, call 1-800-364-8604. This gift card is issued by PetsCard, LLC. All trademarks are owned by PetSmart Home Office, Inc. © PetSmart 2022 All Rights Reserved