Results for - Inside the mind of white-collar criminals
1,952 voters participated in this survey
(Source: Eugene Soltes, Harvard) Eugene Soltes is an associate professor of business administration at Harvard Business School, author of Why They Do It: Inside the Mind of the White-Collar Criminal. He reflects on conversations with nearly 50 convicted executives about why they did what they did. His investigation lasted 7 years.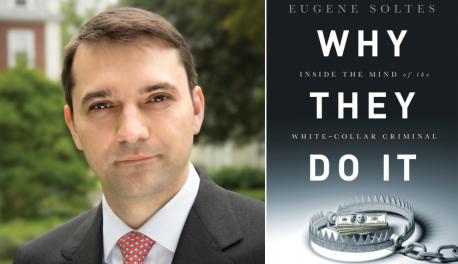 1. So here we have an example on how it works: two leading executive headhunters once wrote a book called Lessons From the Top: The Search for America's Best Business Leaders that celebrated 50 titans of industry. Readers were encouraged "to learn from and pattern themselves" after the leadership qualities displayed by these executives. Yet within a few years of the book's 1999 publication, three of those 50 were convicted of white-collar crimes and headed to prison, and three more faced tens of millions of dollars in fines for illicit activity. It was an extraordinary rate of failure for executives once deemed the "very best - and most successful—business leaders in America." Did you read Why They Do It: Inside the Mind of the White-Collar Criminal?
2. The author was struck by their lack of remorse regarding either their actions or the harm those actions had caused. One of them said: "When the responsibility is there and you have to meet budgetary numbers, you can forget about morals." When prosecutors try to explain white-collar misconduct, they often describe it as resulting from a cost-benefit calculation. A 1976 Wall Street Journal piece distinguished corporate crimes from other kinds of offenses by saying that "unlike the tempestuous and murderous spouse or the impoverished and desperate mugger, suite criminals are sophisticated and deliberative businessmen who engage in crime only after carefully calculating the benefits and costs." Do you agree with this theory?
3. To outsiders, the harm caused by white-collar crimes is obvious. Economically, there's relatively little difference between embezzling money from shareholders and stealing it from their wallets. But there's a critical difference between a physical, intimate crime like taking someone's wallet and the white-collar variant. The perpetrators of white-collar crimes are physically, psychologically, and even temporally distant from their victims. An embezzler doesn't have to get close to victims, touch them, or see their reactions. Therefore, embezzling doesn't motivate the same visceral senses as robbery. Indeed, the former executives I came to know were unable to relate to those they had harmed. Do you believe that not being close to the victims, or not even knowing them, makes the criminals feel less guilty about their crimes and how they affect people's lives?
4. Usually, a gut feeling that something will be harmful is enough of a deterrence. But when the harm is distant or abstract, this internal alarm doesn't always go off. This absence of intuition about the harm creates a challenge for executives. Today, managerial decisions impact ever-greater numbers of people and the distance between executives and the people their decisions affect continues to grow. In fact, many of the people most harmed or helped by executives' decisions are those they will never identify or meet. In this less intimate world, age-old intuitions are not always well suited to sense the kinds of potential harms that people can cause in the business world. Let's guess: how many executives nowadays put people first, profit next?
12/29/2016
Business
1952
24
By: LBP
Earn Rewards Live
Comments