Results for - Blake Nordstrom, Of Nordstom Department Stores, Passes Away At Age 58
2,260 voters participated in this survey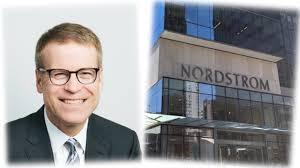 1. Blake Nordstrom, one of the copresidents of Nordstrom Department Stores, died Wednesday less than a month after being diagnosed with lymphoma. He was 58. Nordstrom led the company with his brothers, fellow copresidents Erik and Peter Nordstrom — the fourth generation of one of retail's most prominent families, great-grandsons of the company's founder John W. Nordstrom, who opened a shoe store that has been built into a department store empire with annual sales over $16 billion. Founded in 1901 by Nordstrom, Blake's great grandfather, and Carl F. Wallin, the company began as a shoe retailer and expanded its inventory to include clothing, accessories, handbags, jewelry, cosmetics, and fragrances. Select Nordstrom stores also include wedding and home furnishings departments. The company also has in-house cafes, restaurants and espresso bars. As of March 2018, Nordstrom operated 363 stores across 40 US states, including Nordstrom and discounted Nordstrom Rack locations, as well as six Nordstrom full-line stores in Canada. It employed about 72,500 as of 2017. Have you ever shopped at any of the Nordstrom stores?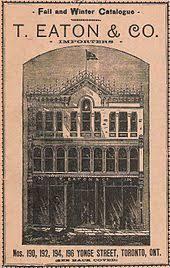 2. Canada had two department store legacies -- The Hudson Bay Company and the T Eaton & Company Limited (Eaton's). Although Eaton's closed its operations in 1999, it was a household name in Canada for years.. The Hudson Bay Company still operates today. Do you know the origins of either these department stores?
The Hudson's Bay Company (HBC), chartered in May 2, 1670, is the oldest incorporated joint-stock merchandising company in the English-speaking world. HBC was a fur trading business for most of its history, a past that is entwined with the colonization of British North America and the development of Canada. The company now owns and operates department stores in Canada, the United States, Belgium, the Netherlands and Germany.
Eaton's was founded in 1869 in Toronto by Timothy Eaton, a Presbyterian Ulster Scot immigrant from what is now Northern Ireland. Eaton's grew to become a retail and social institution in Canada, with stores across the country, buying-offices around the globe, and a catalogue that was found in the homes of most Canadians. In an era when haggling for goods was the norm, the chain proclaimed "We propose to sell our goods for CASH ONLY – In selling goods, to have only one price." In addition, it first established the slogan "Goods Satisfactory or Money Refunded."
Knew neither, and I am a Canadian
Knew neither, and I am American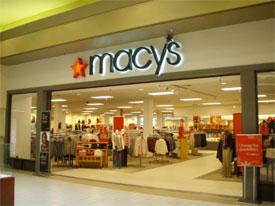 3. Here is the back stories behind some of the best known American department stores. How many did you know about prior to this survey?
Sears & Roebuck -- Richard W. Sears inadvertently got his start from a botched delivery. When Sears was in his early 20s, he worked as a railroad station agent in Redwood Falls, Minnesota, and he was on duty when a shipment of watches came in for the town's jeweler. The jeweler hadn't ordered the watches and refused to accept delivery, so Sears talked to the watch wholesaler and worked out an arrangement—Sears would buy the watches for $12 apiece and then sell them for whatever he could get. Sears had such great luck peddling the watches to his coworkers and local farmers that he quickly gave up the railroad business and moved to Minneapolis to start the R.W. Sears Watch Company at the tender age of 22. Alvah Roebuck entered the story after Sears established his watch company.
Macy's -- Rowland Hussey Macy played more of an active role in designing his company's logo than most founders do. Before Macy, a Nantucket native, got into the dry goods business, he worked on a whaling ship that sailed off of the island. At some point during his whaling days, Macy got a red star tattooed on his hand, and the star later became his store's logo when he opened his first New York shop in 1858. The famous store was actually Macy's fifth attempt at opening a shop after four failed tries near his Massachusetts home, and Macy's shop only took in $11.06 on the day it opened its doors. However, by the end of his first year, Macy had pulled in over $90,000 and was firmly established as a popular New York shopping destination.
Bloomingdale's -- In 1860, brothers Joseph and Lyman Bloomingdale began selling hoop skirts at their Ladies' Notions Shop on New York's Lower East Side, and when these skirts flew off the brothers' racks, they eventually decided to expand their store's offerings. In 1872, they opened a revamped store, the East Side Bazaar, that offered all sorts of European duds they bought through a purchasing office in Paris.
J.C. Penney -- James Cash Penney got his start as regular clerk in a dry goods store. In 1898, he began working for a small Colorado chain called the Golden Rule. In 1902, his bosses offered him an ownership stake in the company if Penney would move to tiny Kemmerer, Wyoming, and start a Golden Rule store there. Penney jumped at the offer. His store was so successful that by 1907, he was able to buy out the other two stores in the Golden Rule chain. By 1912, Penney had over 30 stores in the region, and he incorporated them all under a new name—the J.C. Penney Company.
Did not know any of these
01/06/2019
Business
2260
35
By: Harriet56
Comments