Results for - Brazen Thieves Walk Out of Store With Armfuls of Stolen Goods
2,189 voters participated in this survey
California, which was once a celebrated tourist destination, has deteriorated into a crime-infested mecca for shoplifters, thanks to the destructive policies of Democratic Gov. Gavin Newsom... credit/opinion: https://tinyurl.com/uam9pa4u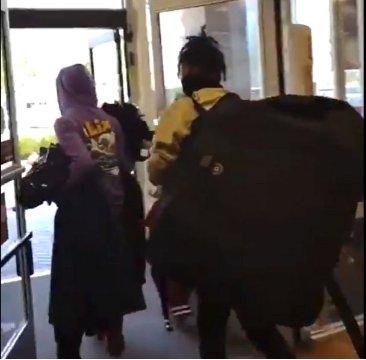 1. Last Monday, two thieves brazenly walked out of a TJ Maxx store in the suburb of Granada Hills carrying handfuls of stolen goods, including an oversized duffle bag filled with loot. What was striking was the thieves' demeanor: They calmly walked out of the store without rushing or nervously looking around. Videos of this crime have been circulating recently. Have you seen or heard this story before this survey?
2. Podcast host Adam Carolla shared the video on Twitter, saying, "Thanks to Prop 47 thefts under $950 will not be prosecuted, so cops will not bother showing up. Just a reminder that you get what you voted for, California!" Do you think this refusal to prosecute theft (and attempts to defund the police) are likely to hurt California financially from lack of tourism and businesses choosing to go somewhere else, where they will be protected from criminals?
3. Proposition 47 was an omnibus criminal justice measure ironically named the "Safe Neighborhoods and Schools Act." Among other things, it reclassified thefts under $950 from felonies to misdemeanors in most cases. The law resulted in incidents like the one Monday. Do you think lawmakers should be voted out who champion bills like this one that embolden criminals and ultimately hurt the public?
4. "They didn't even run out, they walked out," Los Angeles Police Department Sgt. Jerretta Sandoz told KCAL-TV on Tuesday. Sandoz said she was not surprised that criminals have become increasingly emboldened thanks to Prop 47. The 2014 law — combined with the police pullbacks fueled by the left's "defund the police" frenzy — has spawned rampant lawlessness across California, she said. If you were a business owner, would you think twice about opening a store in California where thieves are allowed to take whatever they want (as long as it is less than $950) without fear of prosecution?
5. Not surprisingly, no arrests have been made in the TJ Maxx heist, even though the suspects' faces were visible in the viral video shot by a bystander. Do you think these two are likely to repeat this activity as long as they are able to do it - even while getting filmed - without any action by law enforcement?
07/31/2021
Business
2189
106
Anonymous
Comments