Results for - No internet = refund?
1,581 voters participated in this survey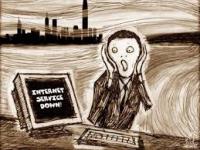 1. My brother is filming Captain America 3, and he has no internet at the hotel where he is staying. It worked for a while, then stopped. So he had to buy airtime for his laptop. Since internet charges were included in the nightly cost, how should he proceed? (Yes, daily contact was made with management regarding internet, they took no action).
Any costs that occurred obtaining internet should be reimbursed to my brother
If nothing is done go to corporate
File a claim if no action is taken, or monies are not offered back
Just because the hotel offers free internet/wi-fi, doesn't mean you would get some type of rate break if it doesn't work
2. Have you ever stayed somewhere, where free internet was offered, but there were barriers to getting it?
3. We have a law where I live that if something inherent stops working in an apartment, the cost to fix or a prorated cost can be taken off the monthly rent/lease cost. Based on this, shouldn't it be this way at overnight businesses (motels, inns, hotels, etc)?
08/19/2015
Business
1581
29
By: ptajuggalette
Earn Rewards Live
Comments