Results for - What would you call it?
2,044 voters participated in this survey
1. Did you know that International Peace Day/World Peace Day is Sept 21?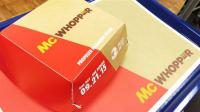 2. *NBC/4*: Burger King has taken out full-page ads in The New York Times and Chicago Tribune featuring an open letter to arch-rival McDonald's, calling for the companies to "end the beef." It's all in honor of The International Day of Peace (World Peace Day) on September 21, which, as one would expect, celebrates peace. This year's theme is "Partnerships for Peace — Dignity for All," and so the king is taking it as a cue to declare a temporary ceasefire in the fast food feud with the golden arches. And to consummate this unholy union, Burger King suggests creating the McWhopper — that's right, a Whopper-Big Mac hybrid burger. What do you think of Burger King suggesting a day of truce, with McDonald's, on World Peace Day?
4. Names for this hybrid burger are flying off the wall; which ones do you like?
Whack (Whopper + Bic Mac)
5. If you have a good name for this hybrid would you leave it in the McComment's section?
08/28/2015
Business
2044
54
By: ptajuggalette
Comments