Results for - American Apparel Encouraged Employees to Wear 'Ask Me to Take It All Off' Shirt on Black Friday
3,629 voters participated in this survey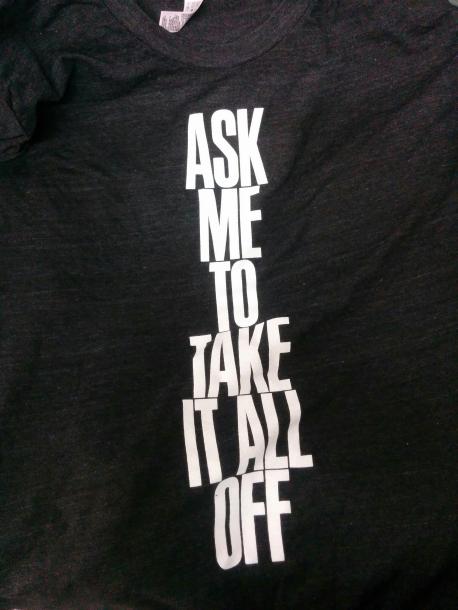 1. Image: Instagram
American Apparel encouraged their employees to wear a t-shirt bearing the slogan 'Ask Me To Take It All Off.'
Do you think it was inappropriate for American Apparel to ask their employees to wear a t-shirt with the aforementioned slogan?
2. Although the source initially understood that the shirts were mandatory for Sales Associates at American and Canadian stores, she says employees instead have the option of wearing a black shirt with an "Ask Me to Take It All Off" button on it.
Would you have felt comfortable wearing the shirt or button?
3. Have you ever purchased anything from American Apparel?
4. This slogan on these tee shirts—which were distributed to both male and female employees as optional—was originally intended to be a play on words to engage customers during our Black Friday Sale, which features an additional 50 percent off items that are already marked down 50 percent. We understand that this offended an individual employee who spoke up about his / her concerns. American Apparel is a company that values free speech, and most importantly, creating an environment where employees feel valued, protected, and safe. As such, we have decided to discontinue this slogan and will seek other ways to stay creative and push the envelope, which is part of our brand DNA.
Do you think they are discontinuing the slogan solely due to media backlash?
12/02/2015
Business
3629
50
By: Tellwut
Earn Rewards Live
Comments