Results for - Do You Look Forward to Tax Season?
2,873 voters participated in this survey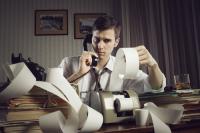 1. How prepared are you for tax season?
Always prepared, and keep all my reciepts
Sometimes I miss a few items
Usually save things for last minute
2. What does tax season usually result in for you?
3. If you receive a refund, do you find the extra cash useful?
4. What do you spend your refund on?
Treat myself to something nice
Catch up on bill payments
5. Do you feel you are paying too much in taxes ?
02/20/2014
Money
2873
14
Sponsored By: bdhillon
Earn Rewards Live
Comments