Results for - 3 women wore the same thing to a news segment
1,833 voters participated in this survey
1. An accidental #twinning situation led to a behind-the-scenes meltdown during an Australian news broadcast. Is this the first time you are viewing this video (url link - https://youtu.be/_NCEeZtRCRI )?
2. The situation played out on Nine News Now, when anchor Amber Sherlock realized her co-worker, Julie Snook, was wearing the same color shirt as her. Worsening the already harrowing situation, a guest on the upcoming segment was also clad in white. Have you ever been in a situation where you and another person has worn the same outfit (or same color of clothing) in a public place?
3. Sherlock tore into her co-worker. "I told you two hours ago," Sherlock says to Snook, insisting she change her shirt or at least put on a jacket. When Snook tries to politely ask if it will be in issue, in a way where she hopes Sherlock will demur and say it is no big deal, she instead gets snapped at. "Yea. It is an issue. Go and grab a jacket," Sherlock retorts. Snook continues to try and plead with Sherlock about her being unreasonable but to no avail. "Come on, wearing a jacket, and I asked you two-and-a-half hours ago. It's not the hardest request," Sherlock says. Snook finally went and grabbed a jacket and the segment proceeded. Do you think the news reporter Sherlock was being unreasonable by throwing a small tantrum with another co-worker on live TV?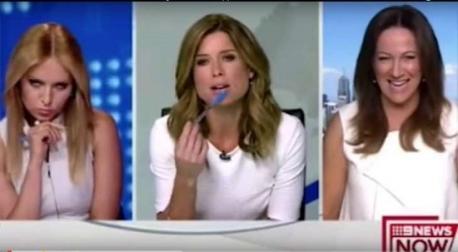 4. All the while the segment's guest sits bewildered, trying to help but getting dismissed. Did you even pay attention to the segment's guest that was wearing white also (lady to the far right)?
01/15/2017
News
1833
56
By: SmokeyandBandit
Earn Rewards Live
Comments