Results for - So You Think It Only Happens In Other Countries...Well, Think Again!
2,161 voters participated in this survey

1. If you listen to the news, human trafficking horror stories from all over the world, especially in Pakistan, Thailand, China, India, and Bangladesh (the top 5) might make you think it doesn't happen here. If you think "not in my backyard", think again. According to the the U.S. Justice Department 14,500–17,500 people are trafficked into the country every year. According to the Department of State's statistics, there are approximately 244,000 American children and youth that are at risk for sex trafficking each year. And Canada is no better. The Royal Canadian Mounted Police (RCMP) estimated that 600-800 people are trafficked into Canada annually and that additional 1,500-2,200 are trafficked through Canada into the United States. Even more alarming is that the majority of these human trafficking cases are not reported, so statistically, these number are much lower than reality. Did you already know it was a critical problem here in our two countries?
Yes, in both Canada and the U.S.
2. Human trafficking is often confused with human smuggling — illegal but consentual migration and transportation of a person across an international border. It's also not the same thing as prostitution. Prostitution involves a transaction between two consenting adults, whereas human trafficking involves someone who is being forced to participate. Anyone can be a victim of human trafficking but vulnerable people are most at risk — and that includes youth. According to recent data from Statistics Canada, victims are most often women under the age of 25. Typically, they're marginalized women, but the report suggests victims can also come from stable homes. It is without a doubt the most under-reported crime in both of our countries --in most incidences the cases are classified as assault instead of trafficking. Did you know the difference between prostitution and human trafficking?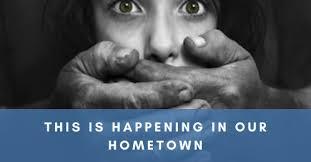 3. The greatest problem with human trafficking is that most Americans and Canadians view the issue as happening in Pakistan, Thailand, China, India, and Bangladesh -- or in Russia or Singapore -- in other words, human trafficking happens there not here. The sobering fact is that it's not just a third world problem. It's everyone's problem and it's the fastest growing illegal industry in the world, affecting us all, not just "them". The majority of human trafficking victims are Americans or Canadians, not imported from other countries. The largest annual human trafficking event in the US is the Super Bowl. We think of football parties and tailgating, not men looking to pay for sex with enslaved victims. It is the party atmosphere and the enormity of the crowds which help pimps and victims to go unnoticed. During the 2013 Super Bowl in New Orleans, local, state and federal law enforcement arrested more than 80 individuals for prostitution and human trafficking with the help of Operation Innocence Lost. And how many more were not arrested, or even noticed? Do you now believe it is our problem too?
Always did know it was our problem too
Still don't think it is our problem
11/23/2018
News
2161
37
By: Harriet56
Comments