Results for - My Body, My Rights
2,323 voters participated in this survey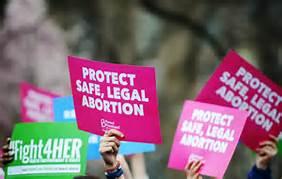 1. Alabama Republican Representative Terri Collins is proposing a bill that would make abortion punishable by death in her state. Essentially, Rep. Collins wants to overturn Roe V. Wade (the 1973 Supreme Court decision that made abortions legal). This new legislation, if passed, would counter the historic law that gives women the right to choose. Under her bill (HB314), abortion would be banned entirely and criminalized after two weeks of conception. At two weeks after conception, most women do not even know they are pregnant. The only exception will be if the mother's life is in danger. However, the bill forbids women to seek an abortion if rape or incest is involved. Do you support this proposed bill?
Yes, but with some allowances for rape and incest vistims
2. Rep. Collins' bill is one of the harshest abortion legislation to be proposed because she's also seeking to ban the use of prescription drugs (that are used to end a pregnancy) as soon as a woman is "known to be pregnant." Any attempt to end the pregnancy is considered a felony in Alabama and the woman would face the death penalty, which is the same if an assailant were to harm or kill a pregnant woman's baby. Rights organisations have accused the Trump administration of attacking women's reproductive rights by reinstating the global gag rule, which blocks federal funding for non-governmental organisations that provide abortion counselling or referrals. Do you think this is an attack on women's reproductive right?
04/23/2019
News
2323
148
By: ghahrem5
Comments