Results for - The R.M.S. Titanic survey
90 voters participated in this survey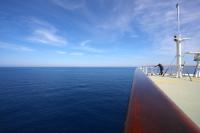 1. The 'RMS' in the ship's name stands for:
Royal Meteorological Society
Roads and Maritime Services
2. There have been many nautical disasters that have resulted in massive loss of life - why does the Titanic story resonate?
It was avoidable (calm seas, good weather)
There were so many extremely wealthy and well known people on board
It was a symbol of how unfair the class system was
It was so unexpected (The ship was supposed to be 'unsinkable')
They keep making films about it
There were a lot of rich English and American people on board
3. Why, allegedly, were there not sufficient life-boats for all the passengers?
Only first class ticket holders were eligible for a life-boat place
It was felt that having all the life-boats fitted made the ship 'look bad'
It was felt to be unsinkable, so there was no need for life-boats
4. Which of the following films about the disaster is the best?
The Unsinkable Molly Brown (1964)
A Night to Remember (1958)
5. Do you think there is too much media coverage of the centenary of the disaster?
04/23/2012
News
90
0
By: Turtle65
Comments