Results for - B.C. Government Slammed For 'Utterly Ignorant' COVID-19 Self-Care Bingo Card
3,244 voters participated in this survey
The B.C. government is getting heat for a "tone deaf" self-care bingo card that recommends people build a blanket fort, drink tea or dance to manage pandemic stress. The province tweeted out the game on Friday, encouraging people to complete a row, column or diagonal to make sure they're taking care of their mental health.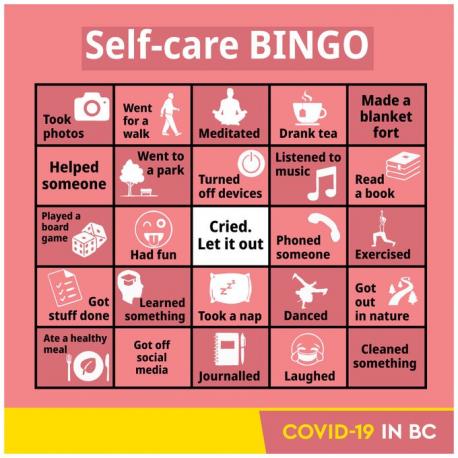 1. Twitter users were quick to criticize the government for minimizing and trivializing the devastating impact of the nearly yearlong pandemic. Do you think this bingo card is trivializing the impact of COVID 19?
2. Do you consider this to be tone deaf?
Yes, but only because it was from the government
Yes, it would be tone dear for anyone to do this
3. The blowback to the tweet comes at a time when early pandemic rituals like bread baking and the 7 p.m. cheer for frontline workers have been replaced by anxieties over stalled vaccine shipments and emerging variants of concern. Comparing how you felt to the start of the pandemic, would you say you were/are more anxious then or now?
02/23/2021
News
3244
86
By: Tellwut
Comments