Results for - That's A Whale Of A Tale!
2,254 voters participated in this survey
1. Talk about a whale of a tale! On June 11, commercial lobster diver Michael Packàrd was nearly swallowed whole by a humpback whale off the coast of Provincetown, Massachusetts. The encounter only lasted about 30 seconds before the whale resurfaced and belched out Packàrd. Once back in the water, Packàrd's crewmates pulled him to safety and immediately transported him to a hospital. Miraculously, except for serious bruising and a dislocated knee, Packàrd escaped virtually unscathed. Did you hear about this story?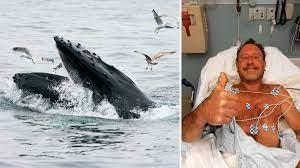 2. Packàrd was about 45 feet deep into the water searching for lobsters, when he felt a huge push, almost like a truck hit him. He initially thought a great white shark had attacked him, but felt around and did not feel or see teeth. While inside the whale, Packard—with his scuba gear and breathing apparatus still on—began to move around to try and escape. By Packàrd's estimate, about 30 to 40 seconds passed before the whale began to move its head from side to side, resurfaced, and threw him out into the water. Humpback whales are not normally aggressive towards humans. Experts say that when humpback whales feed, they engulf fish using their wide, billowing mouths as a net. They filter out water through their baleen plates before swallowing their catch. As the whale lunged towards a school of fish, it is possible that Packàrd was just in the wrong place at the wrong time and got sucked into the whale's mouth. Have you ever seen a humpback whale up close (maybe not as close as Packàrd)?
3. And despite his harrowing experience, he hasn't lost his sense of humour. Packàrd said that he'd like Massachusetts native Matt Damon to play him in movie—if his story is every picked up in Hollywood. Or perhaps he'll get his own adventure series -- this lobster diver seems to have no shortage of interesting events that would capture an audience. He also survived a deadly plane crash in Costa Rica in 2001, and a while back, he came across the corpse of a missing person while diving. Don't you think his life would make a good movie (or TV series)?
06/25/2021
News
2254
34
By: Harriet56
Comments