Results for - Scientists Say They Could Bring Back Woolly Mammoths.
2,445 voters participated in this survey
Using recovered DNA to "genetically resurrect" an extinct species — the central idea behind the Jurassic Park films — may be moving closer to reality with the creation this week of a new company that aims to bring back woolly mammoths thousands of years after the last of the giants disappeared from the Arctic tundra. Flush with a $15 million infusion of funding, Harvard University genetics professor George Church, known for his pioneering work in genome sequencing and gene splicing, hopes the company can usher in an era when mammoths "walk the Arctic tundra again." He and other researchers also hope that a revived species can play a role in combating climate change. What's being proposed is actually a hybrid created using a gene-editing tool known as CRISPR-Cas9 to splice bits of DNA recovered from frozen mammoth specimens into that of an Asian elephant, the mammoth's closest living relative. The resulting animal — known as a "mammophant" — would look, and presumably behave, much like a woolly mammoth. Mammoths once scraped away layers of snow so that cold air could reach the soil and maintain the permafrost. After they disappeared, the accumulated snow, with its insulating properties, meant the permafrost began to warm, releasing greenhouse gases, Church and others contend. They argue that returning mammoths — or at least hybrids that would fill the same ecological niche — to the Arctic could reverse that trend. Do you think this is a good idea?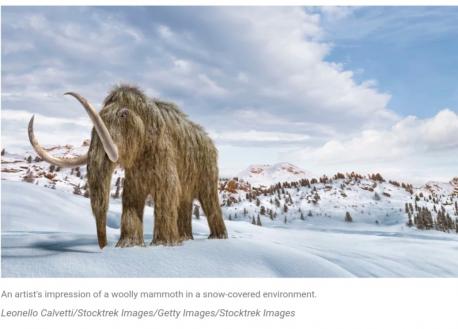 1. Scientists Say They Could Bring Back Woolly Mammoths.
09/22/2021
News
2445
74
By: Hulagirl56
Comments