Results for - Potential Supreme Court ruling to strike down the Affordable Care Act (ACA) for being unconstitutional
382 voters participated in this survey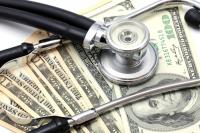 1. Do you think the ACA will be struck down?
Yes I think it will be struck down
I think they will do a partial strike down
There is no way it will be struck down
I don't know enough about this to say
2. Which of the following impacts of the strike down of this act would you find worthwhile?
1.4 trillion in planned spending on this program will not happen
Effective 2013, Medicare tax of 2.35% on combined income over $250,000 for families and $200,000 for single income earners would go away. This tax is also a problem given that the floor amount is not indexed
Effective 2018, the new 40% tax on employer provided "Cadillac" plans in excess of $27,500 for a family and $10,200 for an individual would not be implemented
I don't find any of these worthwhile, the ACA is worthwhile
3. Do you think employer provided health care plans result in wasteful spending?
4. Should employer provided health care insurance be tax free?
5. Would you be comfortable with a phased out approach to employer tax free insurance plans?
6. If the Supreme Court were to strike down the ACA, do you think that this would significantly hurt President Obama's ability to be re-elected?
7. If the ACA is struck down, do you think the Medicare system would be paralyzed, given some aspects of this legislation are in force?
06/30/2012
News
382
8
By: sassy
Comments