Results for - Massachusetts Man Arrested For Recording Police Officer
2,049 voters participated in this survey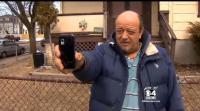 1. A Fall River, Massachusetts man was arrested and charged with "unlawful wiretapping" after he used his cell phone to video record an officer he says was out of control and loudly cursing while on the phone near his home. Have you heard about this?
2. The officer, Tom Barboza, hauled George Thompson off to jail and also confiscated the cell phone. In Massachusetts it's perfectly legal to record video and audio of a public official, including police, as long as they are performing their duties and the recording isn't hidden. Barboza's own police report shows that Thompson acknowledged he was recording the officer. Do you think Thompson should have been arrested?
3. Thompson was released from jail but police kept his phone for two days after the arrest. Thompson claims that when he got the phone back, all the videos had been erased. Police claim that Thompson was the one who erased them. Fall River Police Chief Daniel Racine says an investigation into who erased the video is now underway. Do you think the police erased the videos?
4. Do you believe it should be legal for bystanders to record police?
03/24/2014
News
2049
22
By: Bboopy13
Earn Rewards Live
Comments