Results for - Roommates Find $40,000 in Couch
1,741 voters participated in this survey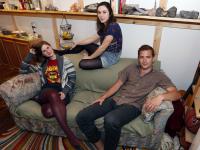 1. Two months after they bought a couch for $20, three roommates realized it was stuffed with envelopes of cash. Have you heard this story?
2. Roommates Reese Werkhoven, Cally Guasti and Lara Russo realized the lumps in their couch's pillows were envelopes stuffed with money. The discovery was like a dream for the three, all of whom are either in college or recent graduates. But then they spotted a name amongst the envelopes and were faced with an ethical puzzle. After a lot of moral discussions, they all agreed they should give the money back to the rightful owner. It turns out that the money was socked away by a woman's late husband who was concerned he wouldn't always be there for his wife. It represented decades of savings, including wages from the woman's job as a florist. Do you think the three roommates did the right thing?
3. After they returned the money to the woman, Guasti, Russo and Werkhoven received $1,000 as a reward. Do you feel $1,000 is an adequate reward for their honesty?
4. If you were in a similar situation, would you return the money?
05/18/2014
News
1741
33
By: Bboopy13
Earn Rewards Live
Comments