Results for - King Tut's Beard Broken
2,183 voters participated in this survey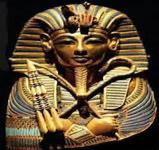 1. King Tut (Tutankhamun) ruled Egypt from 1336-1327 BC. He is thought to have been about 17 when he died. The boy king's burial mask is one of Egypt's most outstanding artifacts. Are you familiar with King Tut?
2. According to recent news reports from Egypt's state-owned Ahram Online, a conservator at the Egyptian Museum in Cairo claims the beard on King Tut's burial mask broke off by accident last year when the mask fell as it was being cleaned. Have you heard this news story?
3. Are you surprised this news is only now coming to light when the incident reportedly occurred last year?
4. The conservator at the museum reportedly stated orders were received to fix the beard quickly and an inappropriate adhesive was used. Egyptian Minister of Antiquities Mamdouh Eldamaty has reportedly told Ahram Online stories of damage to the mask are unfounded. Were you aware there are conflicting accounts of this story?
01/25/2015
News
2183
20
By: Bboopy13
Earn Rewards Live
Comments