Results for - Geneticists Crack Kennewick Man Mystery
1,692 voters participated in this survey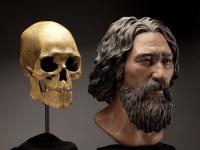 1. The 8,500-year-old remains of Kennewick Man were found in July, 1996 by two college students wading in the Columbia River near Kennewick, Washington. Prior to this survey had you heard of Kennewick Man?
2. A Native American Colville Tribe tried to have Kennewick Man buried according to the Native American Graves Protection and Repatriation Act. Scientists filed an injunction to stop the burial, arguing the skull more closely matched Polynesians or the Ainu from Japan. Do you feel it's important for scientists to study Kennewick Man?
3. New DNA sequencing advancements have allowed geneticists to isolate the full genome of Kennewick Man. Compared to DNA from the Colville Tribe, researchers found Native Americans are his closest relatives. He's not a direct ancestor. The two families diverged from a common ancestor 600-700 years before Kennewick Man's death. Should he be considered to be a Native American?
4. The U.S. Army Corps of Engineers maintains legal custody of Kennewick Man's skeleton, which is housed at the Burke Museum in Seattle, Washington. According to Science Magazine, they plan to explore whether to return the remains to Native American tribes. Do you feel Kennewick Man should be returned to Native Americans for burial?
06/21/2015
News
1692
24
By: Bboopy13
Earn Rewards Live
Comments