Results for - At Least They Brought Chips And Dip! Surprise Guests Show Up At Underage Party
1,839 voters participated in this survey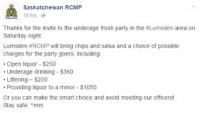 1. A group of Canadian teens learned a lesson about posting things on social media, when they announced their party plans for an underage 'frosh' party on social media. The Saskatchewan RCMP actually RSVP'd to the invite, and came through on their promise to attend, even bringing chips and salsa. Have you heard about this story?
Hey, I was there/knew someone who was there!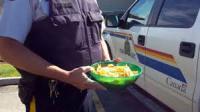 2. The officers showed up at the Lumsden, Saskatchewan party, which is reportedly an "annual event on private property" which is "chaperoned, with adult supervision" and provides designated drivers. They informed guests that no tickets would be handed out, unless they saw things happening that were against the law. Everyone at the party complied, and had a great time. How would you react if you had the police show up at your underage party?
Back in the day when I was underage, I'd be happy
Back in the day when I was underage, I'd be upset or mad
Back in the day when I was underage, I'd probably be in big trouble!
I'm underage, and it would be OK
I'm underage, and I wouldn't be happy
I'm underage, and I'd leave the party
3. Do you think the RCMP's approach to attending the party with snacks, instead of "raiding" the party once it gone underway with the intention of catching underage drinking, is a better move?
I think it's a great move on their part
No, I think raiding the party later is better--would have more of an impact
10/07/2015
News
1839
26
By: ghahrem5
Comments