Results for - Toddler dead after car crash into restaurant patio
1,729 voters participated in this survey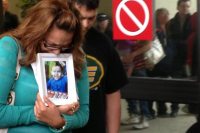 1. Have you heard about Sage Morin, the mother of a toddler who died when a vehicle crashed into the patio of a southwest Edmonton restaurant in May 2013. She spoke directly to the man who pleaded guilty to refusing to provide a breath sample after the deadly crash. Two-year-old Geo Mounsef died after he was pinned against a wall after a vehicle approached a parking spot, went through a plate-glass divider, and hit a table. Geo's parents and a restaurant employee were injured.
2. The sentencing hearing for Richard Suter, 65, began Monday in Edmonton. He was charged with impaired driving causing death, three counts of impaired driving causing bodily harm and refusing to give a breath sample where death occurred. The impaired driving charges are expected to be withdrawn at the end of this week's sentencing hearing. "Mr. Suter was not drunk," claimed Dino Bottos, Suter's lawyer. "He had only a few drinks that day and only a drink about an hour before the incident, but he was not impaired by alcohol." Geo's family has said they believe Suter was impaired that day.
should he be out on bail?
do you think he was impaired?
3. In Canada the maximum penalty for refusing to provide a breath sample where death occurred is a life sentence.
do you think that's fair?
10/28/2015
News
1729
48
By: cheapsuzie
Comments