Results for - Yo Adrian, Oy vey
1,944 voters participated in this survey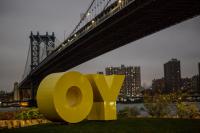 1. The sculpture "OY/YO" by Deborah Kass was placed in Brooklyn Bridge Park on Monday and will stand until August. (Credit Kirsten Luce for The New York Times) The rude interjection is a staple of New York life. Now, the landscape of the city will itself heckle residents and tourists, with a brash new sculpture in Brooklyn Bridge Park that yells "YO" if you are looking at it from Manhattan or "OY" if you are gazing out from Brooklyn. I love this, what do you think?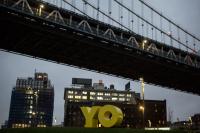 2. If you're in the area, will go see it?

3. Let's say that we are all going to see it. You're going to have your picture taken before it's dismantled in August. Which side will you photograph with?
11/14/2015
News
1944
19
By: ptajuggalette
Earn Rewards Live
Comments