Results for - Putting Others Before Your Own Needs -- Canadian Couple Cancels Wedding To Help Syrian Refugees
1,799 voters participated in this survey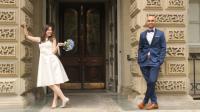 1. A Toronto couple cancelled plans for a big, expensive wedding and asked guests at their small city hall ceremony to donate money in lieu of gifts — all to help them raise thousands of dollars to sponsor a family of Syrian refugees. Samantha Jackson and Farzin Yousefian were planning a traditional wedding for March with all the trimmings, at a cost of tens of thousands of dollars. They had already booked a venue, hired caterers, and invited family and friends. In September, they saw the pictures of three-year-old Alan Kurdi's lifeless body washed up on a Turkish beach — an image that put a global spotlight on the Syrian refugee crisis. Jackson and Yousefian have now put the wedding funds toward helping a Syrian family of four. Are you aware of this story?
2. The two, with their wedding funds and the donations from family and friends, have raised $17,500 of the $27,000 needed to sponsor the family of four. While planning their wedding, Jackson, who is studying refugee health-care policy and volunteers with the Ryerson University Lifeline Syria Challenge, which raises funds to sponsor refugees in Toronto, and Yousefian often talked about the global refugee crisis and wondered if they could help. What do you think of what they did?
What a wonderful, completely selfless and humanitarian thing for this couple to do!
Good idea, but they could have donated the money to another worthwhile charity that helps those already in this country
No, weddings are about the couple, and they should have gone the traditional route--what they do with their money and gifts received is their choice
Great in principle, but maybe misguided use of money
Hopefully this will be a trend that other couples choose--who needs a big splashy and expensive wedding?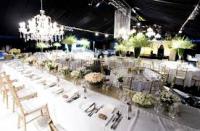 3. Which statement best expresses how you feel about people spending huge amounts of money on their weddings?
It's their wedding--they can do whatever they want and spend whatever they want
I love big weddings--it's all about celebrating the beginning of the couple's life together
I totally hate when people spend so much money on big weddings, when the money could do so much good elsewhere
Who even needs a wedding now--just elope or have a small ceremony and use the money for other expenses
There has to be a middle ground--throw a nice party, but save money on all the extras and use it for something else
If anyone considering throwing a big wedding would donate the money they plan to spend to charity, it would do so much good
11/24/2015
News
1799
19
By: ghahrem5
Earn Rewards Live
Comments