Results for - Making a joke from the Paris tragedy
1,468 voters participated in this survey
At Youngstown State University, in Youngstown, Ohio, a student decided it would be funny to decorate one of the rocks on campus at night to memorialize the Paris tragedy. So far, it is unknown who the responsible student(s) is, but it is still being investigated, last I heard. Since then, YSU students have painted over the ISIS imagery and repainted it with images of peace and patriotism.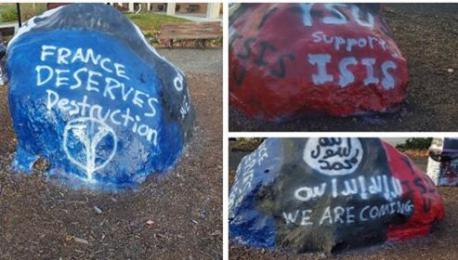 1. Do you find this funny?
2. Would you personally, or do you know someone from college who would have taken the time and effort to do something like this?
3. If the original "artist" of the rock were to be found, do you think he/she should be charged criminally?
4. Do you think the guilty student(s) should be ejected from campus?
5. Do you think the fellow YSU students did the right thing by repainting the rock with patriotic images?
12/05/2015
News
1468
38
Anonymous
Comments