Results for - Calligraphy Assignment Leads to School Closing
1,598 voters participated in this survey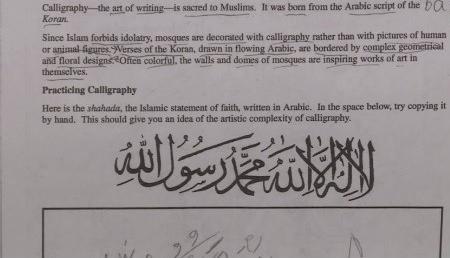 1. A Virginia school system closed schools Friday after a high school geography assignment on world religions led to allegations of Islamic indoctrination. Prior to this survey had you heard this news story?
2. A geography teacher at Riverheads High near Staunton, Virginia, asked students to try calligraphy by copying a statement in Arabic. It was the Muslim statement of faith, "There is no god but Allah. Muhammad is the messenger of Allah." Students were also invited to try on a hijab. Some parents were outraged at what they saw as an attempt to proselytize Islam. Do you agree the parents should have been outraged?
3. The teacher did not have the students translate the statement into English, require students to recite the statement, or say they believed in it. Do you think this assignment was appropriate for public school?
4. In the statement posted on the school district website, officials said that "no lesson was designed to promote a religious viewpoint or change any student's religious belief." Do you feel this assignment promoted a religious belief?
5. Following parental objections and media coverage, the school began receiving angry phone calls and emails from local people and from outside the area. Due to the tone and content of those communications, a decision was made by law enforcement and the Augusta County School Board to close the school out of an abundance of caution. Do you think it was a good decision for them to close the school?
12/21/2015
News
1598
82
By: Bboopy13
Earn Rewards Live
Comments