Results for - Dolphin Dies because Tourists Wanted Selfies with it
1,895 voters participated in this survey
Dolphin Selfie Tragedy!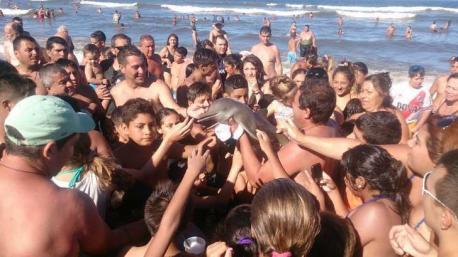 1. A dolphin died after it was taken from the sea and paraded around a beach so tourists could take selfies with it. Pictures have emerged of the small mammal on an Argentine beach being handled and passed between tourists like a trophy. Moments later, the dolphin's lifeless body was found lying on the sand. Are you familiar with this recent dolphin story?
2. Alyx Elliott, Head of Campaigns at World Animal Protection, said: "This is a tragic and senseless death which is sadly indicative of some people's focus on obtaining a perfect animal selfie rather than thinking of the animal's welfare. If you would of seen this dolphin would you of taken selfies with it, and then watch it die afterwards?
3. Beach-goers should have immediately called for help in returning this poor baby dolphin to the ocean, not passed him around like a photo prop." If you were a beach-goer would you of called for help, or at least tried to get the dolphin back into the water?
4. WARNING: video contains some images that you might find disturbing! By removing the young dolphin (or La Plata dolphin) from the water caused the mammal to rapidly dehydrate. The dolphin later died after being out of the water for too long. Do you think this dolphin's death was a form of animal cruelty?
5. Next time when (or if) you go to the beach will you be more respectful to wildlife and their needs, and observe them at a distance and not interfere in their daily lives?
02/23/2016
News
1895
94
By: msrcms
Earn Rewards Live
Comments