Results for - Caring Police Officers
1,351 voters participated in this survey
On February 2, 2016, Cincinnati Police Officers found a 2 year-old little boy wandering the streets alone at 2:30 in the morning, barely clothed and suffering from the bitter cold. The officers immediately scooped the boy up and bought him shoes, a coat, pants, and fresh diapers. They then continued to care for the little boy until his mother showed up 3 hours later. Mom was arrested and the little boy was placed in the care of a relative. The photo is of one of the District 3 police officers, Will Nastold, trying to get the little guy to calm down enough to take a nap.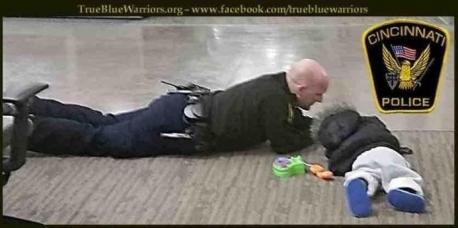 1. Have you ever heard of cases like this involving child neglect by a parent?
2. Do you think the mother should have been arrested when she showed up 3 hours later?
3. Are you surprised the police officers went to such great lengths to care for the little boy that had been abandoned by his mother?
4. Does this story renew your hope in the men and women of law enforcement?
03/06/2016
News
1351
47
Anonymous
Earn Rewards Live
Comments