Results for - Say What You Want About The President, But Children Should Be Off Limits
1,948 voters participated in this survey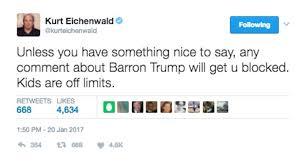 1. Free speech is free speech. Like him or not, President Trump can be criticized, laughed at, praised, picked apart -- it's all OK because he is an adult. The same would go for any celebrity, sports figure, politician, newscaster, journalist, and others. However, it should be off-limits to write anything, post anything and take aim at the children of these high profile people. Do you agree?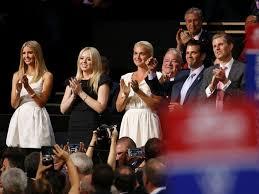 2. Do you feel that Trump's wife and grown children are also off-limits, or are they fair game for criticism because they are adults and old enough to defend themselves?
They should all be off limits
His wife should be off limits, but his grown children should be fair game, especially since they are going to be involved
His grown children should be off limits, but his wife should be fair game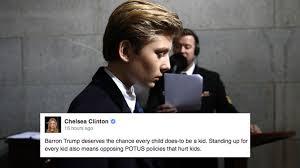 3. Chelsea Clinton took to Facebook to call out the people who are attacking or even posting seemingly innocent jokes about Barron Trump, the 10 year old son of Trump. She posted "Barron Trump deserves the chance every child does-to be a kid. Standing up for every kid also means opposing @POTUS policies that hurt kids." Do you agree with her?
Yes, but only the first art about leaving the boy alone
Yes, but only the part about criticizing the President about his policies
Don't agree with her post at all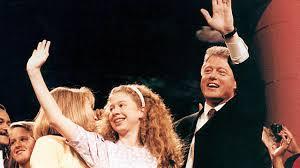 4. Chelsea knows about being a child in the spotlight, as she was only twelve years old when her father was elected President. She too was mocked by conservative radio host Rush Limbaugh and in a skit on Saturday Night Live (SNL later apologized). And of course, celebrity children have always been the subject of attention, sometimes good but often very harsh. Do you think this is fair?
No, it is never fair to attack or criticize the children, no matter who their parents are
If the parents take their kids out into the spotlight, then it is fair game
Depends on what is being said -- if it's all in good fun, and not hateful, why not?
It is always fair game with their kids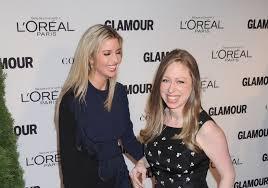 5. Chelsea Clinton and Ivanka Trump were good friends (as were their parents) up until recently, but they have not spoken since the election. Do you think the two can continue to be friends now that it is all over, and the rivalry may be put to rest?
Yes, they both seem like mature women and will resume their friendhip
No, too much has happened
01/28/2017
Politics
1948
53
By: ghahrem5
Comments