Results for - Joseph Robinette Biden: A Respectable Presidential Candidate - Or Just Another Creepy Old Man...?
2,522 voters participated in this survey
One of the men assigned to protect Joe Biden and his family while he was serving as VP under President Obama shares some of the shady things he witnessed by the presidential hopeful. ............... Source: https://tinyurl.com/y94bwd2m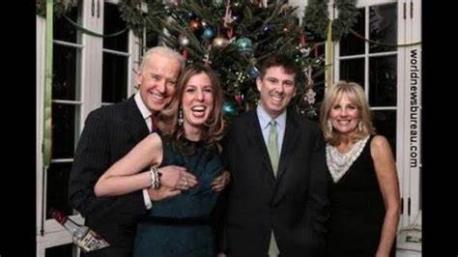 1. The agent stated, "We had to cancel the VP Christmas get together at the Vice President's house because Biden would grope all of our wives and girlfriend's a__es". In fact, "a Secret Service agent once got suspended for a week in 2009 for shoving Biden after he cupped his girlfriend's breast while the couple was taking a photo with him. The situation got so heated, the source tells Big League, that others had to step in to prevent the agent from hitting the then-Vice President." Would you be comfortable electing someone to the highest governmental office who has a history of mistreating women?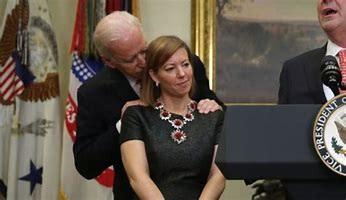 2. "The official Vice Presidential residence is the Queen Anne style house at One Observatory Circle in Washington, DC, which is located on the northeast grounds of the U.S. Naval Observatory. The property is maintained and cared for by the service branch. The agent said that the men on duty would frequently stand in front of female agents and Navy women that were present "like a guardian." On some occasions, they would make up reasons to get the women away from where he was." Do you think it's a shame that Biden's Secret Service agents had to go to such lengths to protect female staff and Navy personnel from his inappropriate treatment of them?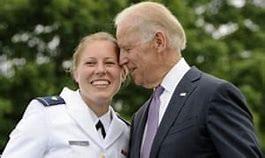 3. Best-selling author Ronald Kessler wrote about Biden's problem with female agents in his book The First Family Detail. "Agents say that, whether at the vice president's residence or at his home in Delaware, Biden has a habit of swimming in his pool nude," Kessler wrote. "Female Secret Service agents find that offensive. " The agent also confirmed this sentiment, adding that "it was especially an issue at his Delaware house that he would go to every weekend." "He would only get naked when Jill was absent," he added. "Biden would walk around the VP residence naked. I mean, Stark naked… Weinstein level stuff," he added. Do you think it was inappropriate for Biden to be naked (even in his own home) with female agents and Navy staff present?
4. Biden is also renown for his inappropriate touching and "lingering too long" while hugging women in his staff or inappropriately touching females (age notwithstanding) at political events and saying things that made them uncomfortable. Before this survey, have you heard of or seen video of Biden's "lingering hugs" or "straying hands"?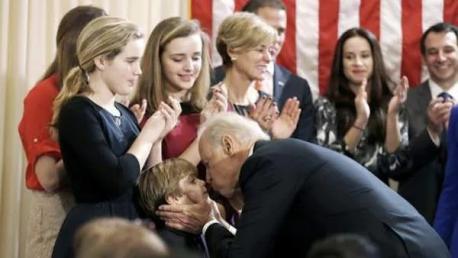 5. Perhaps you've heard of the allegations of sexual assault against Biden brought by Tara Reade, one of his former Senate staffers. She alleges that in 1993, Biden backed her up against a wall and inappropriately touched her under her skirt. She claims that she was shocked because, up until that point, she always considered him like a father figure to her. Does it concern you that someone like Joe Biden, who is an elected representative and should know better, is repeatedly inappropriate with women and young ladies - even when the cameras are on him?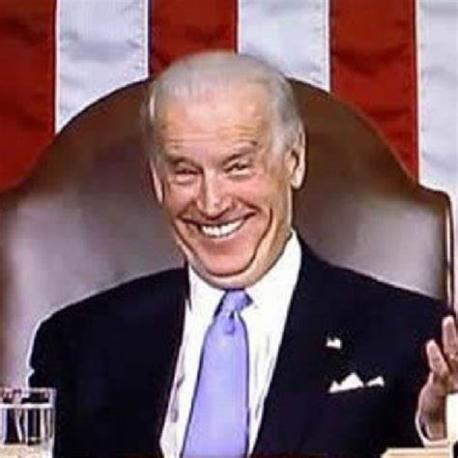 6. I'm sure many of you are thinking, 'Trump has similarities in his own past - so what's the difference?' However, Trump has admitted to sexual misconduct and inappropriate female touching in the past, but all of that seems to have ceased since he became an elected representative. While there were allegations for inappropriate behavior BEFORE his election, there have been no reports of sexual misconduct since he took office. However, the anti-Trumpers aren't likely to see the difference. Are you willing to vote for someone who has REPEATEDLY been accused of sexual misconduct while serving as an elected official over someone who has seemingly "turned over a new leaf" since he has taken office?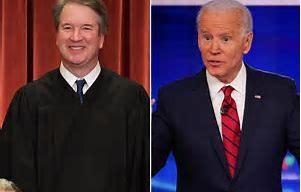 7. There have been a lot of comparisons between the current sexual abuse allegations against Joe Biden and those brought against supreme court nominee Brett Kavanaugh years ago. The reactions have been startlingly different. Some of the very same celebrities and politicians have reacted entirely the opposite, based on the accused. When it was conservative Kavanaugh being accused, a great many were demanding the accuser's words be taken at face value, but now the exact same people are claiming the accuser cannot be believed and the accused - liberal Joe Biden - should be trusted. Do you find it even the least bit hypocritical that someone would demand ALL women be believed when they make allegations of sexual assault - when the allegation is against someone with opposing political views - only to make a 180 and decry women accusers as being politically motivated and untrustworthy with the same type of allegations - when it is against someone with a similar political stance?
05/18/2020
Politics
2522
301
Anonymous
Comments