Results for - Who's The Real Racist?
2,383 voters participated in this survey
"What President Trump has done in his spreading of racist – the way he deals with people based on the color of their skin, their national origin, where they're from – is absolutely sickening," said Joe Biden back in July. "No sitting president has ever done this. Never, never, never. No Republican president has done this. No Democratic president. We've had racists, and they've existed, they've tried to get elected president. He's the first one that has." (Keep this - what was said and who said it - in mind as you complete this survey)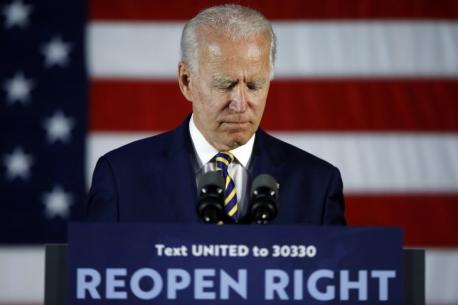 1. These (above) are strong words for a man who has praised a former KKK leader, Democratic Senator Robert Byrd, as a "mentor," praised segregationist George Wallace as "someone who's not afraid to stand up and offend people, someone who wouldn't pander but would say what the American people know in their gut is right," and worked with other segregationist Democrats to fight federally mandated desegregation of schools via busing. Does this make it seem as if Biden is - at least somewhat - hypocritical?
2. While many have jumped on the "Trump is a racist" bandwagon, no evidence exists to prove that he is one. Accusations of racism against Trump became fashionable once he started publicly criticizing Barack Obama, and when he decided to run for president as a Republican. Prior to his entrance into politics, Trump had a record of service in the private sector that quite clearly contradicts allegations of racism. In 1986, he was awarded the Ellis Island Medal of Honor, along with Rosa Parks and Muhammad Ali, which is awarded annually in celebration of "patriotism, tolerance, brotherhood and diversity." At a Rainbow Push Coalition event in 1999, Jesse Jackson praised Donald Trump as a "friend" who embraced "the under-served communities." Does this sound like a racist to you?
3. Biden, however, is renown for his gaffes and "misspeaks" that are often quite racist. Are you aware of some of Biden's "mistakes" which could easily be taken as racist?
4. Biden's 2008 presidential campaign got off to a rocky start in 2007 when he had to defend remarks he made about his future running mate, first-term Senator Barack Obama. "You got the first mainstream African American who is articulate and bright and clean and a nice-looking guy. I mean, that's a storybook, man." First of all, Barack Obama was not the first African American to run for president. Jesse Jackson ran for president in 1984 and 1998. Alan Keyes ran for president in 1992, 1996, 2000, and 2008. Carol Moseley Braun and Al Sharpton both ran in 2004. Perhaps they weren't articulate or clean enough for Biden's standards. Do you think this "praise" of Obama at the time (despite the fact that it was inaccurate) could be construed as racist?
5. And much more recently, Biden commented on being able to stay sequestered in his home because a dark-skinned woman was stocking the shelves of the grocery store (not his exact words because Tellwut's auto-editing prohibits directly quoting what he said - because it "contains bad words"). Do you think this comment reflects poorly on Biden?
10/16/2020
Politics
2383
299
Anonymous
Comments