Results for - Biden receives abysmal end-of-year approval rating
2,507 voters participated in this survey
In a nation bereft with problems, the habitually lackadaisical approach to problem solving being employed by the Biden White House is not sitting well with the American people, and late-2021 polling proves it.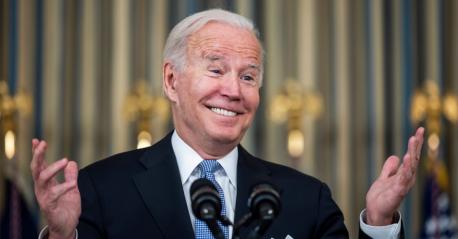 1. Biden, who has been overseeing a number of crises in our country, has appeared reluctant to solve any of them throughout his first year in office. Vice President Kamala Harris is in a similar boat, despite her attempts to laugh it off by suggesting her biggest regret thus far is not traveling more. Do you agree that Biden has not been performing well as president up until the end of last year?
2. Now, as the nation starts into 2022, they don't appear to have much faith in the Executive Branch. Just 36 percent of registered voters approve of President Joe Biden's job performance, Civiqs polling revealed last week. Biden's approval has reached historic lows amid high crime, 40-year-high inflation, and Americans stranded in Afghanistan: 55 percent disapprove of Biden's job performance. Do you expect Biden will perform better in 2022 than he has thus far and his approval ratings will increase by this time next year?
3. Among those 18 to 34 years old, Biden's approval rating is only 28 percent, while 56 percent disapprove. Ages 35 to 64 mark Biden's approval rating in the high 30s, while those 65 and older give Biden a 41 percent approval rating. Does it surprise you that Biden's approval numbers are abysmally low for the youngest demographic?
4. When broken down by race, Biden's approval numbers are weak in some demographics. Only 29 percent of white individuals approve of Biden's performance; 64 percent disapprove. Among black Americans, a key voting bloc for the Democrats' intersectional coalition, Biden's approval to disapproval numbers for the 18 to 34 age group are tied at 36 percent each, though he fares better with older black Americans. Hispanic or Latino voters give the president 48 percent approval to 41 percent disapproval. Does it surprise you that Biden fares the best among Hispanic/Latino voters (even though it is still below 50%)?
5. The news comes as Democratic polling continues to suggest that the party is ready to move on to a different candidate in 2024, fearing that Biden's inability to achieve much of anything is a major detriment to his reelection chances. Do you think Biden should run again in 2024?
01/14/2022
Politics
2507
200
Anonymous
Earn Rewards Live
Comments