Results for - Greece - idyllic travel spot, euro nightmare
713 voters participated in this survey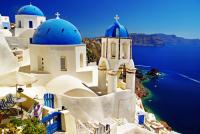 1. Do you think the economic issues in Greece pose a serious threat to the global economy?
2. Will Greece skate through again and get its second round credit assistance?
Only if Greece fulfills its conditions
Yes because concessions will be given
3. Do you think Greece will leave the Euro region by the end of June 30, 2012?
4. Have the issues in Greece effected your plans or desires to visit the country?
Yes, I was planning to go there this year and changed my mind.
No, these issues would deter me from going
There are other places that I would chose to go,given the current issues there.
07/18/2012
Politics
713
9
By: sassy
Comments