Results for - Donald Trump's spokesperson once asked why there were no 'pure breed' presidential candidates
2,809 voters participated in this survey
Donald Trump spokesperson's Twitter feed came under scrutiny this week when this musing from 2012 was brought firmly back into the spotlight by US political reporters.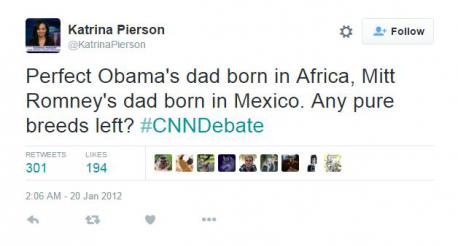 1. Were both of your parents born within North America?
2. Pierson is implying that having a parent born overseas makes someone less American. Do you agree or disagree with Pierson?
3. Donald Trump's mother was born in Scotland. Does this make Donald less American?
4. Do you think that both parents of a Presidential candidate should be born within the U.S.?
01/28/2016
Politics
2809
55
By: Tellwut
Comments