Results for - Anonymous Hacking Group
1,886 voters participated in this survey

1. Anonymous is a decentralized virtual community. They are commonly referred to as an internet based collective of hacktivists whose goals, like its organization, are decentralized. Anonymous seeks mass awareness and revolution against what the organization perceives as corrupt entities, while attempting to maintain anonymity. Anonymous has had a hacktivist impact. Are you familiar with the group Anonymous?
2. The group, which started several years ago, made many headlines in 2015. Which headlines (I've only listed a few) are you familiar with?
Operation Charlie Hebdo - Anonymous released a statement offering condolences to families affected and addressed terrorists by targeting Jihadist websites and accounts linked to supporting Islamic terrorism by disrupting and shutting them down.
Operation Ice ISIS - Anonymous attacked the Islamic State's social media accounts and Internet-based recruitment drives, apparently destroying "months of recruiting work."
Operation KKK - Anonymous promised that they would expose about 1,000 Klan members by name.
Operation StormFront - Anonymous posted a video claiming that due to "Racism, Antisemitism, Islamophobia and Holocaust Denial" they were going to attack the website Stormfront run by former KKK Leader Don Black.
Operation Anon Down - Anonymous vowed revenge against the Royal Canadian Mounted Police (RCMP) officer after a shooting and the RCMP website was reported down nationwide.
Operation Death Eaters - Anonymous launched this operation for collecting evidence against international pedophile rings and their severe abuse of children to bring them to justice.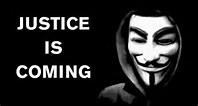 3. Do you view Anonymous and their intentions as good or bad for trying to shut down the negatives of the world?
4. The hacktivist group Anonymous wants to make a fool of Trump and his "hateful" campaign. The group has declared "total war" on the divisive GOP front-runner and is calling supporters to join in on an April Fool's Day attack by helping to shut down the billionaire buffoon's websites and expose personal information about him. Do you think this will hurt Donald Trump's campaign?
03/23/2016
Politics
1886
58
By: sarahzahm
Comments