Results for - Prince Charming For The Prom
2,203 voters participated in this survey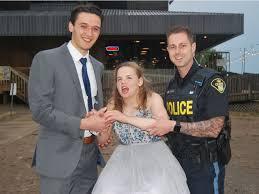 1. Gabby Horner-Shepherd, who has special needs due to a genetic disorder, is in her final year of high school. Shannon Horner-Shepherd, Gabby's mom, created a website and video prior to her prom searching for a special someone to take Gabby to the dance. The website and video went viral. Shannon said that they had around 25 applications to be Gabby's date. In the end, they chose two -- Zack Bowman, a former Ontario Hockey League goalie, and Constable Jeremy Renton, an officer with the OPP, escorted Gabby to the prom at Waterford District High School in Ontario, on June 5. The night was emotional for everyone involved. Gabby's two support workers and her mom joined them at the prom, and there was not a dry eye in the room when Gabby danced with her mom. Don't you admire these two who went above and beyond to make this day extra special for this young woman?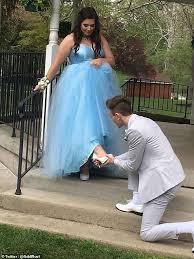 2. A high school junior who never knew how to sew decided to make his date's dress for their prom, when she could not afford her dream dress. Parker Smith worked on the dress for months by teaching himself to sew and seeking out helpful tips from his grandmother. Often he would remake parts of the dress multiple times to get the sections perfect. The finished dress was a blue ball gown, which Addi Rust was proud to wear, and in true "Prince Charming" fashion, the two even posed for pictures with Parker slipping on her "glass" slipper. Parker now intends to study costume design and musical theatre when attending college with the goal to become a Broadway costume designer. Do you agree that this was a special thing for this young man to do for his date?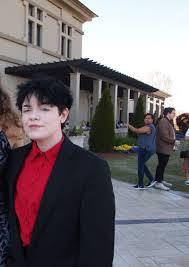 3. Dex Frier, a senior at Johnson High School in Gainesville, Georgia, claims school officials removed him from this year's prom king ballot because he is transgender and told him to enter as a prom queen nominee instead. "I'm requesting that my identity be respected and included," Frier said. "I want to bring awareness to the fact that removing me from the king ballot and giving me the option to run as queen shouldn't have been the way to fix this situation." He had been nominated by his peers for prom king. A petition calling for Frier's return to the prom king ballot had amassed almost 30,000 signatures. In response to this, Frier was named one of two "royal knight" seniors at the March 23 prom. In a change from previous years, the 2019 ballot was changed to use gender-neutral terminology and was not divided along the lines of "king" or "queen." It was, instead, a list in which any two students could be voted prom royalty regardless of their gender identity. Do you think this was an adequate response to the issue?
06/21/2019
Education
2203
35
By: Harriet56
Comments