Results for - The Later The Better In This Case--Proposal To Start The High School Day Later For Teenagers
1,686 voters participated in this survey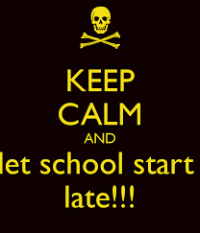 1. A spokesperson for the Sleep and Circadian Neuroscience Institute at the University of Oxford suggests that the school day start at 10:30 or 11 am for teenagers in junior and high school, and allow this sleep-deprived generation of learners to get more shut-eye, and therefore be better prepared for learning. Do you agree with this suggestion?
Absolutely! It makes perfect sense
Maybe, but perhaps starting at 9:30 would be a compromise
No, keep the earlier start to school
It doesn't affect me, so...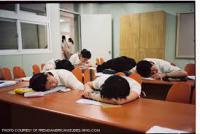 2. Not only do they suggest that this later start would help in junior and high school, they suggest doing the same at universities and colleges. Because our younger society is so tuned in and switched on 24/7, they tend to get less sleep than in the past. According to the spokesperson, Paul Kelley, all their electronic devices "emit light which mimics the light from the sun and they essentially trick our brains into thinking we should be active, not winding down for sleep, and that interferes with our circadian rhythms," Therefore, allowing them to sleep in will ensure they get enough sleep. Do you think this makes sense?
Yes, it does--no matter how early that generation goes to sleep, they will most likely be on their phones or laptops until the wee hours of the morning
No, the situation warrants taking away those distractions so they get the more traditional 7 to 8 hours of sleep
A compromise would seem smarter. You'll never please every teen/college aged student
This doesn't affect me, so...
3. The study also suggests that with the earlier start, a later end to the school day, around 5, would be better for students and parents as it would create a defined dinner hour. Homework and chores, or extra-curricular activities would take place after the dinner hour. Do you think this type of school day would interfere with students' social and after-school life?
Yes, it would be harder to have part-time jobs or other activities with such a late end, and students would just sleep in, and not do these things before school starts
This would probably work really well--when everyone gets home around the same time from work and school, family meals would be easier
This could only work if students had a much later schedule to their activies--things that ended around 11 or so, and then parents who had to work early would be adversely affected
There is nothing wrong with the system now--why fix it!!??
This doesn't affect me, so I'm going to bed
09/16/2015
Education
1686
27
By: ghahrem5
Comments