Results for - Don't be an "Asymptote"
1,380 voters participated in this survey
Dear Math, Go solve your own problems!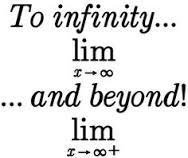 1. Sadly, because I was unable, after 5 attempts to pass Calculus, I was never admitted to Pharmacy School. I was going to revisit the class, now that I am older, but after the first lesson and seeing all of the old terms, I told myself, it's ok to move on. From this list of math terms, check the ones you find amusing.
Abscissa: An oral abnormality one really ought to have looked at by a dentist.
Absolute Value: The price of a bottle of vodka.
Complex number: Any number that requires more than ten fingers to count. Examples include thirtytwelve and a hundreteen.
Coordinate Pair: Matching socks.
Distributive Property: Land bequeathed in a will.
Extrapolated: Euphemism for "I made these numbers up."
Hexagon: What one says to remove a curse.
Infinite Series: A horrible sitcom which will never be canceled, even though your own favorite show got the axe in its second season.
Lower Bound: Wearing excessively tight pants.
Obtuse: A geometry student who doesn't "get it."
2. My rejection letter, from USC, came back on a day in August ... Friday the 13th. Passing calculus is on my bucket list, but low in priority. Is there something that you wish to accomplish from your younger days that you would like to achieve?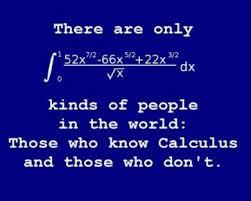 3. On a more serious subject, my daughter is a genius when it comes to math (like her Dad) and my son, not so much. As adults I find there is no pressure to be one way or another. If you are good in math or good in art, I accept you as that. But when I was a substitute teacher and a teacher with 5 math classes, I found that students are pushed to be good or excel or perform in all classes; quite the opposite of when we are adults. Do you find this to be true as well?
02/29/2016
Education
1380
22
By: ptajuggalette
Earn Rewards Live
Comments