Results for - Graduate School Graduation
2,075 voters participated in this survey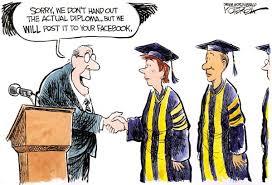 1. My last day of graduate school is May 10th, 2016. Graduation ceremonies are in Chicago. There is not going to be anyone there to support me, and the cost including cap and gown would cost me about $1000.00. However, if money were no object, would you travel to walk across the stage with no one there in the audience?
2. Have you ever participated in a graduation ceremony and there was no one there for and with you?
3. Here are some alternative options, which one is your favorite?
Have a mock ceremony locally
Take a small vacation to celebrate
Visit an amusement park to celebrate
Some other solution to be left in the comment section
4. Which of the following would you do, if you were receiving your Master's degree?
Run naked down the street with streamers
Watch The Graduate with Dustin Hoffman to complicate the situation
03/23/2016
Education
2075
72
By: ptajuggalette
Comments