Results for - Posting Picture Of Stillborn On Social Media
2,305 voters participated in this survey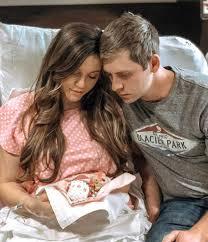 1. Counting On star Joy-Anna Duggar Forsyth recently miscarried the baby she was expecting with her husband Austin Forsyth. Because her pregnancy ended when she was 20 weeks along, in the middle of the second trimester, Joy-Anna had to deliver the stillborn baby, who they had named Annabell Elise. She and Austin posted on their Instagram page on Friday a photo of them holding their daughter. What is your opinion on sharing this type of photo?
I think it is fine -- we share happy moments, why not the sad moments too
I think it is not appropriate. These photos should be only for the family and close people to them, not for the whole world to see. Oversharing is a big problem.
It's their choice, but I would not do it
2. The caption to the photo read," We only had her for 20 weeks, Life is fragile and precious. So thankful the Lord gave her to us for that short time! She will be in our hearts forever! Thank you all for your love and support! We can feel the prayers! Thank you, @carlinbates98 for coming to town to be here for me and for doing my hair and makeup for pictures with our little girl!" Does the fact that she posted this sad photo with a shout out to her makeup and hair person bother you?
Yes, that was an unfortunate shout out in light of the subject
This whole idea of over sharing bothers me
07/11/2019
Celebrities
2305
78
Anonymous
Comments