Results for - Former President Joined Forces with a Critic to Change the World
2,334 voters participated in this survey
At U2 concerts in the early 90's, a regular part of the show featured criticism of George H.W. Bush. In fact, frontman Bono used to call the White House in the middle of the concert to try to get a chance to speak to the 41st President.
1. When George H.W. Bush's son George W. Bush became President in 2001, Bono was also a critic of him. George W. Bush didn't try to go to war with Bono; Instead he invited him to talk about something they had a common passion for, saving lives in Africa. Do you think it was honorable of President Bush to invite a critic to the White House to work toward such a goal?
2. They had lunch together in the White House Mess hall, then Bush took him to the oval office. For 40 minutes they discussed A.I.D.S., malaria, and debt relief. Do you think this was a good topic for the two to discuss solutions?
3. Are you a fan of Bono and the band U2?
4. Are you a fan of George W. Bush?
5. After the meeting, in 2003, President Bush started a program in Africa known as PEPFAR, which 14 years later is credited with saving over 11 million lives. If you knew about PEPFAR, did you know it was a result of a meeting between President Bush and Bono?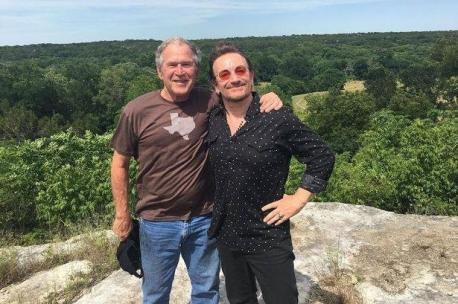 6. Recently, Bono was in Texas as part of the current U2 tour, and paid a visit to his old friend. It is amazing what can be accomplished when mature people find common ground for the good of all. Do you appreciate when people can put their differences aside and become friends with others they may not agree with on all things?
07/17/2019
Celebrities
2334
63
By: bezdekbt
Comments