Results for - The Arts and Holocaust Survivors
1,763 voters participated in this survey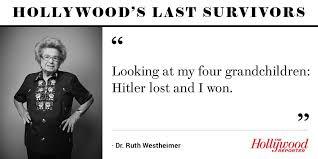 1. If the Holocaust had succeeded in its evil intentions, humanity would have lost many wonderful contributions, not the least would be the arts. It's actually quite remarkable how many artistic geniuses were survivors or children/grandchildren of survivors. Did you know that these famous people were all Holocaust survivors?
Ruth Westheimer -- American sex therapist, media personality, and author best known as Dr. Ruth.
Eliezer "Elie" Wiesel -- Jewish-American professor and political activist, and author of 57 books, including Night, a work based on his experiences as a prisoner in Auschwitz, Buna, and Buchenwald concentration camps.
Roman Polanski -- director of seminal films like "Rosemary's Baby," "Chinatown" and "The Pianist". Although his personal lifeis in question, there is no denying his contribution to the arts.
Branko Lustig -- Academy Award-winning producer of films like "Schindler's List" and "Gladiator".
Robert Clary -- film, TV and stage actor best known for his role on the sitcom "Hogan's Heroes," set in a German POW camp.
Ruth Posner -- founding member of the London Contemporary Dance Company, actress and former member of the Royal Shakespeare Company.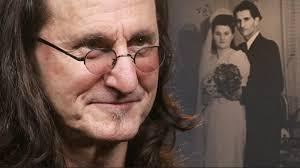 2. The list of children/and grandchildren of survivors is much longer, but if things had turned out differently, none of these talented people, who were all descendants of survivors, would be alive. How many of these connections were you familiar with?
Rush musician Geddy Lee's parents both survived concentration camps, though many other family members did not.
Both of director Miloš Forman's biological parents died in concentration camps. His adoptive father was sent to a concentration camp for distributing "forbidden" books.
Kiss's Gene Simmons's mother survived a concentration camp, but many other family members were killed.
The Ramone's Tommy Ramone had both his parents survive the Holocaust by hiding with neighbors.
Born in Czechoslovakia, director Ivan Reitman and his parents survived the Holocaust.
Both of talk show host Jerry Springer's grandmothers died at Nazi prison camps.
Many of actor Gal Gadot's ancestors died during the Holocaust. Her grandfather, who was only 13, survived the atrocities.
Director Steven Spielberg had a number of relatives who died during the Holocaust in Poland and the Ukraine. His loss fuelled his desire to focus on that time in many of his movies, especially Schindler's List.
Actor Mila Kunis, who was born in the Ukraine, lost many family members in the Holocaust, including her grandparents.
Red Hot Chili Pepper's guitarist Hillel Slovak was born in Israel to Holocaust survivors.
3. The arts, specifically music was a strong tool in many Holocaust survivors' lives during that dark time. Playing music in the ghettos and concentration camps not only fostered spiritual strength within themselves and others, but often proved a bargaining tool that spared their lives. A documentary that was released several years ago, They Played for Their Lives told this story that few had ever mentioned before. It is the story of how some musicians survived the camps, using their craft. From the documentary: "Chaim recounts how he saved his father from beatings, by teaching an SS officer to play the harmonica. Anita, who played cello in the Women's Orchestra in Auschwitz, was spared inhumane forced labor. And little Hellmuth whistled with the band in exchange for extra food and clothing. Each of these unique stories illustrate the power of music to sustain the human soul." Have you seen this documentary?
I want to seek it out now
4. Ninety-four year old Holocaust survivor Saul Dreier discovered the power of music in an unlikely place, when he was imprisoned in a concentration camp in occupied Poland during the Second World War. Five years ago, he decided to return to music by creating a unique band, one that would be composed of Holocaust survivors and their children. The Holocaust Survivor Band has performed all over the world, including the U.S., Israel and recently in Brazil. A few of their members were actually in the camps, and several survived by escaping in time. Would you be interested in seeing them perform?
08/23/2019
Celebrities
1763
22
By: Harriet56
Comments