Results for - Carl Reiner Dead At 98 -- A Life Spent Making People Laugh
2,328 voters participated in this survey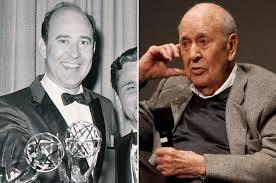 1. Carl Reiner was responsible for some of the best comedy on the big and small screen, in his over 70 year career. Although he was a gifted comic actor, he spent most of his career slightly out of the spotlight — writing, directing and letting others get the laughs. Were you a fan of Carl Reiner?
2. To sum up his career would probably take twenty surveys, as the list of shows and movies he had a part in, is that long. He has won numerous awards for directing, writing, acting and screenwriting. So, with complete knowledge that I have missed many, here is a short list of some of his best work -- which on here are your favourites?
Dead Men Don't Wear Plaid
The Russians Are Coming, the Russians Are Coming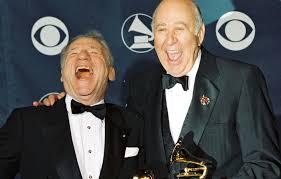 3. Besides his tremendous contributions to film and television, his legacy is so much more than just to entertain and keep us laughing. He was a devoted family man, and his pride and joy were his three children -- Rob Reiner, who was a gifted comedian and director in his own right (This Is Spinal Tap, All In The Family, When Harry Met Sally), author Annie Reiner, and artist Lucas Reiner. He married singer Estelle Lebost and they were married for 65 years until her death in October 2008. Estelle delivered the line "I'll have what she's having" in the deli scene of their son Rob's 1989 film When Harry Met Sally. Here are a few more interesting facts about Carl Reiner's life -- how many did you already know?
Reiner described himself as a Jewish atheist. He said, "I have a very different take on who God is. Man invented God because he needed him. God is us."
The workplace scenes in "The Dick Van Dyke Show" were inspired by Reiner's time with Sid Caesar (although Reiner insisted that his character, Alan Brady was only partly based on Caesar). The domestic scenes were set in New Rochelle, N.Y., where Reiner lived at the time, and Mary Tyler Moore's character was modelled on his wife, Estelle.
Reiner served in the Army from 1942 to 1946. He was assigned to a Special Entertainment Unit on his way to Iwo Jima, and went on to tour the Pacific as a comedic performer.
Reiner received an Emmy in 1995 for his role as Alan Brady on "Mad About You," a character he originated on "The Dick Van Dyke Show"
In 1999, Reiner received the Kennedy Center Mark Twain Prize for American Humor.
Reiner is also a published author-–he wrote more than two dozen books, including the children's book "Tell Me a Scary Story… But Not Too Scary!" in 2003
In 2017 he was prominently featured in "If You're Not in the Obit, Eat Breakfast," a documentary about people who remained active into their 90s.
In his last years he maintained an active Twitter account, which he used primarily for political commentary.
His close friendship with comic Mel Brooks goes back over 70 years, and both men considered themselves "best friends"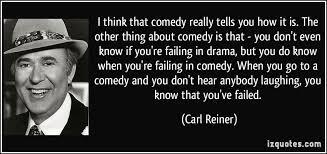 4. Finally, here are some quotes of his, on comedy and life in general. Which of these do you like?
Everybody wants to laugh - you know that. They need to laugh... people need to laugh.
Even failures can turn into something positive if you just keep going. I wrote a television pilot called 'Head of the Family.' CBS didn't want it. It was considered a failure. But we reworked it. A year later, it became 'The Dick Van Dyke Show.'
Comedians are really writers who don't have pens and pencils about them, but they riff.
If you write, write about what you do and who you are, and you can't be wrong. Don't lie about anything. You are very similar to everybody else in the world. You love, you hate, you have friends, you have enemies. Be who you are.
The key to longevity is to interact with other people.
I think that comedy really tells you how it is. The other thing about comedy is that - you don't even know if you're failing in drama, but you do know when you're failing in comedy. When you go to a comedy and you don't hear anybody laughing, you know that you've failed.
The absolute truth is the thing that makes people laugh.
I'm a charming coward; I fight with words.
07/04/2020
Celebrities
2328
32
By: Harriet56
Comments