Results for - Double Take
2,392 voters participated in this survey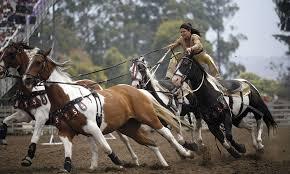 1. Sally Bishop makes her living falling down stairs, jumping off bridges, falling off horses and jumping off the hoods of moving cars. She's probably been in more films and TV shows than any actresses working today, but you won't know her face. Calgary's Bishop is a stunt double and her livelihood depends on not only her ability to perform stunts that most actresses could not or would not, but on her ability to "become" those actresses. You have probably seen her in some of these shows or movies -- which of the following have you seen?
Land -- worked as Robin Wright's stunt double
Let Him go -- stunt double for Kayli Carter
Heartland (TV Series) -- stunt double Kyra Harper and : Alisha Newton
Fargo (TV Series) -- stunt double Carrie Coon
Once Upon a Time (TV Series) -- stunt double Dania Ramirez, Lana Parilla and Ginnifer Goodwin
Mirror Mirror -- stunt double: Julia Roberts
Santa Baby (TV Movie) -- stunt double: Jenny McCarthy
Suicide Squad -- stunt double various
White House Down -- stunt double various
The Handmaid's Tale (TV Series) -- stunt double various
Wynonna Earp (TV Series) -- stunt double various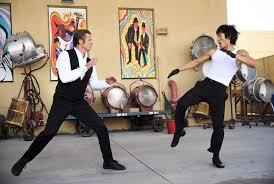 2. In Once Upon A Time In Hollywood, the 2019 Quentin Tarantino movie about a faded television actor (played by Leonardo DiCaprio) and his stunt double, (played by Brad Pitt) shed a light and recognition on the important role stunt doubles play in film and TV. The attitude of celebrating rather than hiding the stunt work is becoming more prevalent. TV's Emmy Awards recognize stunt coordinators, as do the Screen Actor Guild Awards. The Taurus World Stunt Awards have focused solely on the category since 2001. But the Oscars do not recognize the hard work stunt doubles do, except for giving out an honorary Oscar to legendary stuntman Hal Needham in 2012. Do you think the Oscars should add this category to their award roster?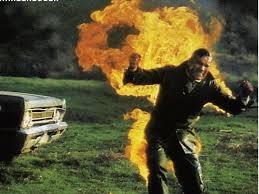 3. Hal Needham, the recipient of that Oscar, was a Korean War veteran who began his career working as a stuntman on television westerns in the 1950s. He graduated to movies in the 1960s, and by 1971 he had formed the company Stunts Unlimited and was working as a stunt coordinator. Having doubled actor Burt Reynolds in several of his early movies, he was asked by Reynolds to direct the 1977 car chase movie Smokey and the Bandit, which is an extended car chase. The movie was a smash hit and Hal Needham went on to direct several other car chases flicks starring Burt Reynolds, including Cannonball Run and Stroker Ace. Hal Needham was also involved in setting several land speed records and helped develop the Budweiser Rocket that broke many records. As the highest paid stuntman in the world, Needham broke 56 bones, his back twice, punctured a lung and knocked out a few teeth. His career has included work on 4500 television episodes and 310 feature films as a stuntman, stunt coordinator, Have you ever considered how dangerous stunt work is?
Yes, whenever I see a dangerous stunt in a movie or on TV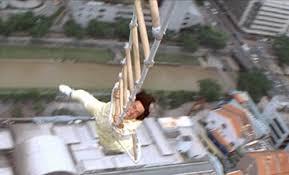 4. He may be one of the best known, but certainly not the only one. How many of these famous stunt doubles are you familiar with?
Dar Robinson -- During the 1970s and 1980s, he did stunts for hugely popular television shows and movies including Magnum Force, Rollerball, The Fall Guy and To Live and Die In L.A. One of the last movies that Robinson worked on was the first Lethal Weapon film, which is dedicated to his memory. And in his entire career, Robinson never broke one bone in his body. Sadly, this accomplished stuntman died in 1986 when he accidentally drove his motorcycle off a cliff while filming a stunt for the movie Million Dollar Mystery.
Vic Armstrong -- According to the Guinness Book of World Records, he is the most prolific stunt double in Hollywood history, as he has doubled Christopher Reeves in Superman and Superman II, Harrison Ford in the first three Indiana Jones movies and George Lazenby as James Bond in On Her Majesty's Secret Service. He has also coordinated many of the action sequences in James Bond films, including a majority of the skiing sequences, and he is the man responsible for the stunts in Terminator 2: Judgment Day
Buster Keaton -- Jackie Chan has often cited Keaton as his hero. Often referred to as the "original stunt performer," Keaton was a star during Hollywood's silent film era in the 1920s. And his movies were known for featuring some very elaborate, very impressive and very dangerous stunts – all of which were designed and performed by Buster Keaton himself.
Jackie Chan -- Best known as a martial artist and comedic actor, he is also a world-renowned stuntman and stunt coordinator, who not only maps out all of the stunts in his films but who also performs all of his stunts. The fight sequences, parkour moves, and jumps in movies such as Rumble In The Bronx, Supercop and the Rush Hour film series have been spectacular. And this doesn't even take into account his earlier Asian martial arts films, where he battled his way through cult classics such as Hand of Death, Drunken Master and New Fist of Fury.
Wendy Leech -- Probably the greatest stuntwoman ever, Leech has performed stunts in many of the most legendary movies ever made, including the first three Superman movies, the first three Indiana Jones films, and The Omen. If that weren't enough, Wendy Leech was the stunt double for C-3PO in the original Star Wars movie (1977). She is in the C-3PO suit in place of actor Anthony Daniels in several action sequences in the film. Other credits of Wendy Leech include the movies Krull, the original Total Recall (doubling actress Sharon Stone) and Red 2.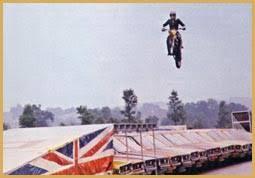 5. Are you familiar with any of these famous stunt doubles?
Richard Bradshaw -- Brandshaw is an experienced horseback rider and is great at any stunt involving horses. This hearkens back to the golden age of Hollywood when Westerns were all the rage and most stuntmen in the movies were experienced cattle hands or real-life cowboys. His ability with horses has enabled Bradshaw to work on movies such as Cowboys and Aliens. But he has also shown his versatility performing car chase stunts and high wirework. During his career, he has doubled actors such as Hugh Jackman, Matthew McConaughey, Guy Pierce, and Hugh Grant.
Colin Follenweider -- The movie franchises he's performed stunt work on including Terminator, James Bond, Die Hard, X-Men, Transformers, Avatar, Spider-Man, Captain America and Iron Man. He also recently completed stunt work on the upcoming movie Dr. Strange. Actors he's doubled for include Bruce Willis, Daniel Craig, Kevin Bacon, and Shia LaBeouf.
Michelle Yeoh -- She is best known for starring in the2018 film Crazy Rich Asians and 1997 film Tomorrow Never Dies (where she did all her stunts). However, Yeoh is primarily a stunt performer and coordinator, and one of the top stuntwomen in Hollywood. She has helped plan out and performed stunts for movies such as Crouching Tiger, Hidden Dragon, Memoirs of a Geisha, and Sunshine.
Sir Eddie Kidd -- British stuntman Eddie Kidd is so revered in the industry that he was knighted by Queen Elizabeth II in 2012, and he now goes by the handle "Sir Eddie Kidd." An expert motorcycle rider and jumper, Kidd holds several world records for the longest motorcycle jump. One of his most famous motorcycle stunts can be seen in the 1979 film Hanover Street starring Harrison Ford. Doubling for Ford on a motorbike, Eddie Kidd jumped a 120-foot railway cutting while traveling at 90 miles per hour – a then-world record. However, Kidd is best known for doing stunt work in several James Bond films – doubling actor Timothy Dalton in The Living Daylights (1987) and Pierce Brosnan in GoldenEye (1995).
03/06/2021
Celebrities
2392
31
By: Harriet56
Comments