Results for - The Latest Instagram Poster Girl Heating Up Social Media...Move Over Kim Kardashian!
1,581 voters participated in this survey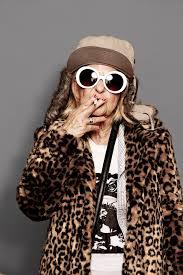 1. Kentucky native Baddie Winkle, born Helen Ruth Van Winkle, is an advanced-age internet personality and internet meme. The 87 year old got her start when her granddaughter helped her upload a photo to Instagram, with her wearing her granddaughter's clothing. She took off, once Rihanna and Miley Cyrus started following her, and now has over 969,000 Instagram followers and 226,000 Twitter followers. Have you heard of her?:
I think I saw something about her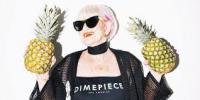 2. She recently became the "new" face of Dimepiece LA, a clothing brand known for its loud slogans ("love don't pay the bills" and "treat your girl right," for example) and celebrity following. Her posters (one shown above) debuted at this year's Coachella Valley Music and Arts Festival , and as a spokeman for the brand stated, "Our brand has always stood for timeless female empowerment and continues to encourage this mindset in our newest campaign." Do you think she is a good poster girl for this brand?
She's an amazing choice--young at heart and that's what it is all about
She's a good choice, but could turn off some customers of the brand
Bad choice--she's just not current enough in our youth-obsessed society
Don't know enough about Dimepiece LA to comment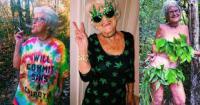 3. Baddie Winkle actively supports the legalization of marijuana, although she claims she has never tried it herself. She has taken photographs holding joints, to support her cause. Do you think this Granny is a good role model for today's younger generation?
Yes, she's telling them that life doesn't have to "age" you if you're young at heart
No, she's giving off the wrong message
I'm torn -- some of what she says I agree with, some I don't
08/26/2015
Celebrities
1581
25
By: Harriet56
Earn Rewards Live
Comments