Results for - Miley Cyrus opting for sex change operation
1,604 voters participated in this survey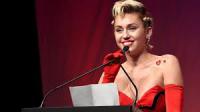 1. MIley Cyrus said today, that she will opt for a sex change operation. Your response is?
Good for her working towards a goal
Don't care for her = don't care about her life's details
Like her, but don't care about whatever her choices are in life
I do not support her decision
2. If you are a current fan of MC, will this news cause you to ...?
I will no longer be a fan
08/27/2015
Celebrities
1604
81
By: ptajuggalette
Earn Rewards Live
Comments