Results for - Amy Schumer Living The Frugal Life
2,631 voters participated in this survey
Despite comedian Amy Schumer's success, she has recently admitted that she is still living in a small apartment building in New York City. Schumer claims she chose not to upgrade as "everyone says I'll make money on the next thing, but they've been saying that for 11 years."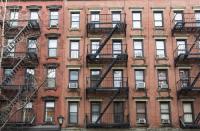 1. Are you familiar with this news story?
Yes, I am familiar with this new story
No, I am not familiar with this news story
2. Are you surprised that Amy has not upgraded her living situation considering her success?
3. If you became very successful and made a significant amount of money, would you upgrade your living situation?
4. Are you a fan of Amy Schumer?
08/25/2015
Celebrities
2631
42
By: Tellwut
Earn Rewards Live
Comments